I'm back with yet another fantastic
Gooseberry Patch
cookbook for ya'll! I'm super excited to share this one. One, because it's filled with delicious recipes just in time for summer grilling and camping; and two, because I just so happen to have a couple included in this one! It gives me such great joy to know the great folks at GP love my food enough to include my recipes in their amazing publications! (If you're interested, my
Kansas City Pork Chops
can be found on page 10 and
Mini Parmesan Corn
on page 97!!)
We love to grill. In fact, we enjoy it so much we do so year round. Yep, we're the people who have been known to throw some t-bones on the grill during a blizzard. (True story! Ask our neighbors. They were so jealous!) But I will admit, during the warm, sunny months is when I absolutely enjoy it the most. There is just something about firing up the grill that screams summer to me; and this book is full of tasty recipes to celebrate all things barbecue season. Everything from salads to main dishes to desserts and beverages, it has something for everyone.
The first recipes I'm sharing is one I know you're just going to love. What says cookout or barbecue more than a creamy, cool, crisp, coleslaw? I have many different versions I make, but the thing that caught my eye about this one right away was the dill.
I am a huge dill fan, and any time I can add it to a favorite dish, it just takes it over the top. This is so simple to make and so delicious, I know it will be a great addition to your next backyard get together! Grab the charcoal, or maybe the propane tank, and get grilling all summer long. Oh, and Gooseberry Patch is giving (1) lucky winner a change to bring this book home to your kitchen. Just scroll down below the recipe to enter!
Snippy Snappy Coleslaw
AKA Zippy Dill Coleslaw
Found on Page 173, Contributed by Brenda Mclancon McComb, MS
1/4 c. mayo
1/4 c. sweet pickle relish
2 TBS ranch salad dressing
2 TBS sugar
1 TBS white wine vinegar*
1/2 tsp. dry mustard
1/2 tsp. paprika
1/4 tsp. dill weed, extra for garnish
1 (16 oz.) package 3-color shredded coleslaw mix
In a large bowl, combine all ingredients except coleslaw mix. Whisk until smooth. Add coleslaw mix; stir until well combined. Cover and chill at least one hour before serving.
*NOTE*
I substituted white distilled vinegar since I have that on hand.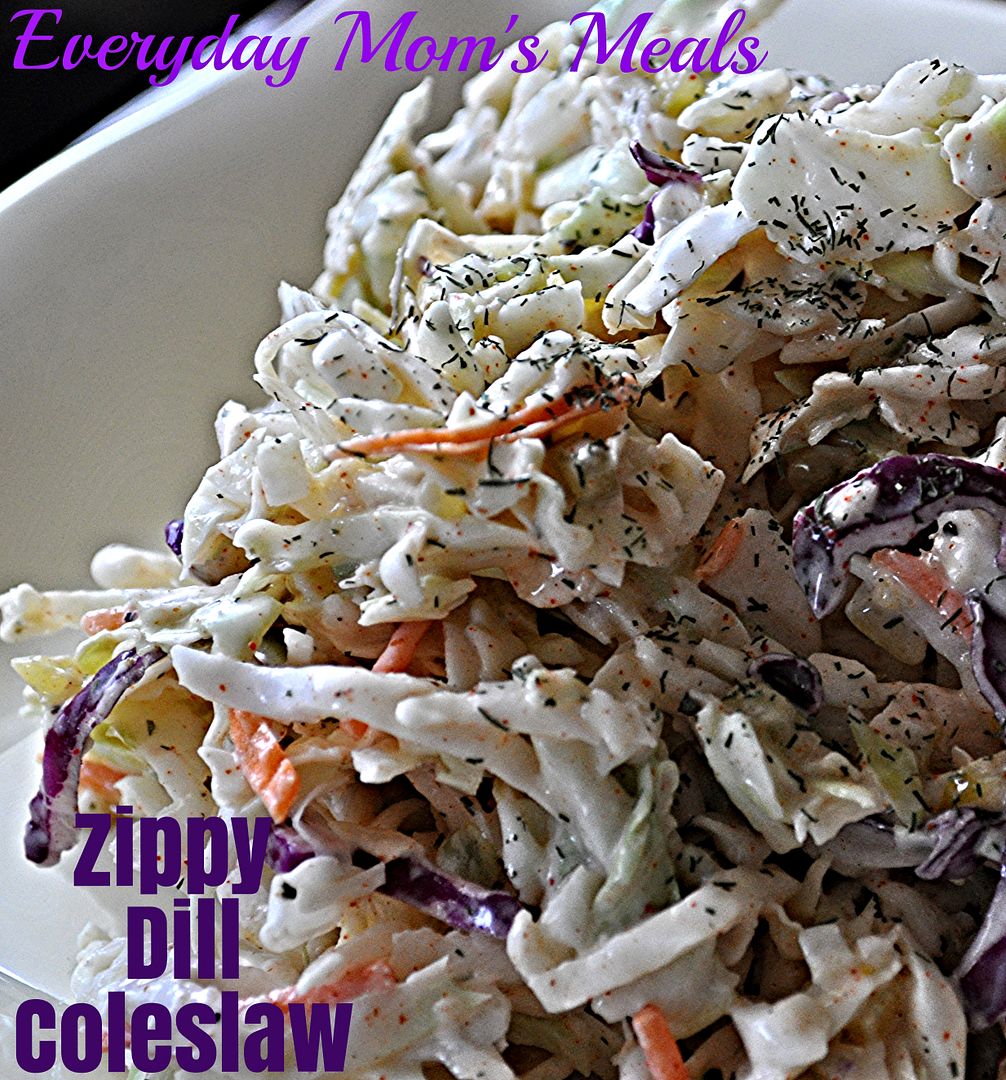 1. This contest is open to US Residents 18 and older ONLY.
3. The winner will be notified by email and Facebook. He/she will have 48 hours to respond or another winner will be chosen.
4. When leaving comments for entries, they MUST BE SEPARATE ones AND include an email address so it's easy for me to find the winner. If entries are together, it will only count as (1) and if no email, entry will not be considered.
5. If any of the extra entries are items you are already doing, please just remind me!
6. Contest Ends: June 10, 2014
(1) Lucky Winner will receive:
Mandatory Entry:
1. Leave a comment telling me your favorite grilled meal!
GOOD LUCK!
Disclaimer: I was given a free cookbook and one to give away to a fan for this review. All thoughts and opinions are my own.