Yep, I've got another great recipe from
Gooseberry Patch
's latest cookbook to share with ya'll today. In case you missed it Monday, check out the first recipe I made, details about this fabulous book, and how you can win a copy for yourself. Just click
here
!
By now anyone that reads this blog on a regular basis knows we are pasta fiends in this house. I'm not kidding when I say we could eat it every single day, I'm not kidding. The three of us had be spend some time in Italy in our past lives.
And you also know what a friend I have in my Crock Pot. Any time I get to utilize it, is a good day. When a meal, or at least a good portion of a meal, can be cooking all day while I'm tackling my to-do list, it just makes my life so much easier.
So can you imagine my level of excitement when these two loves combined into one dish in this new terrific GP book? I have made pasta sauce in the slow cooker before, and it ends up tasting like something Tony Soprano would sit down to for Sunday dinner. A cooked all day, mama slaving over the stove, taste without that much effort. Plus I knew this one would be a big hit with the boys because of the Italian sausage; and I was completely right... on both accounts. The deep, rich flavor this gets from slow cooking all day is just what you want in a homemade red sauce, but the Crock Pot does all the work for you!
Be sure to jot this one down for a hearty meal your family will love, that you can save for a day when you know cooking isn't high on
your
to-do list. And don't forget to enter to win a copy of 101 Super Easy Slow Cooker Recipes for yourself!
Spaghetti Sauce with Italian Sausage
Submitted by Amy Felhberg Allison, IA Found on Page 51
1 TBS olive oil
6 Italian pork sausage links (I cut mine into 1/2" circles)
1 c. green pepper, chopped
1 onion, chopped
2 cloves garlic, sliced
1 (28 oz.) can crushed tomatoes
1 (8 oz.) cans tomato sauce
1 (6 oz.) can tomato paste
1/4 c. sugar
1 TBS dried basil
1 TBS dried oregano
1 TBS Italian seasoning
Salt and pepper to taste
Heat oil in a skillet over medium heat. Brown sausages with green pepper, onion and garlic. Add tomatoes with juice and remaining ingredients to slow cooker. Mix well. Spoon sausage mixture into tomato mixture. Cover and cook on LOW for 6 hours. Serve over cooked pasta.
*NOTE*
Shown here over penne paste and garnished with Parmesan cheese and dried parsley.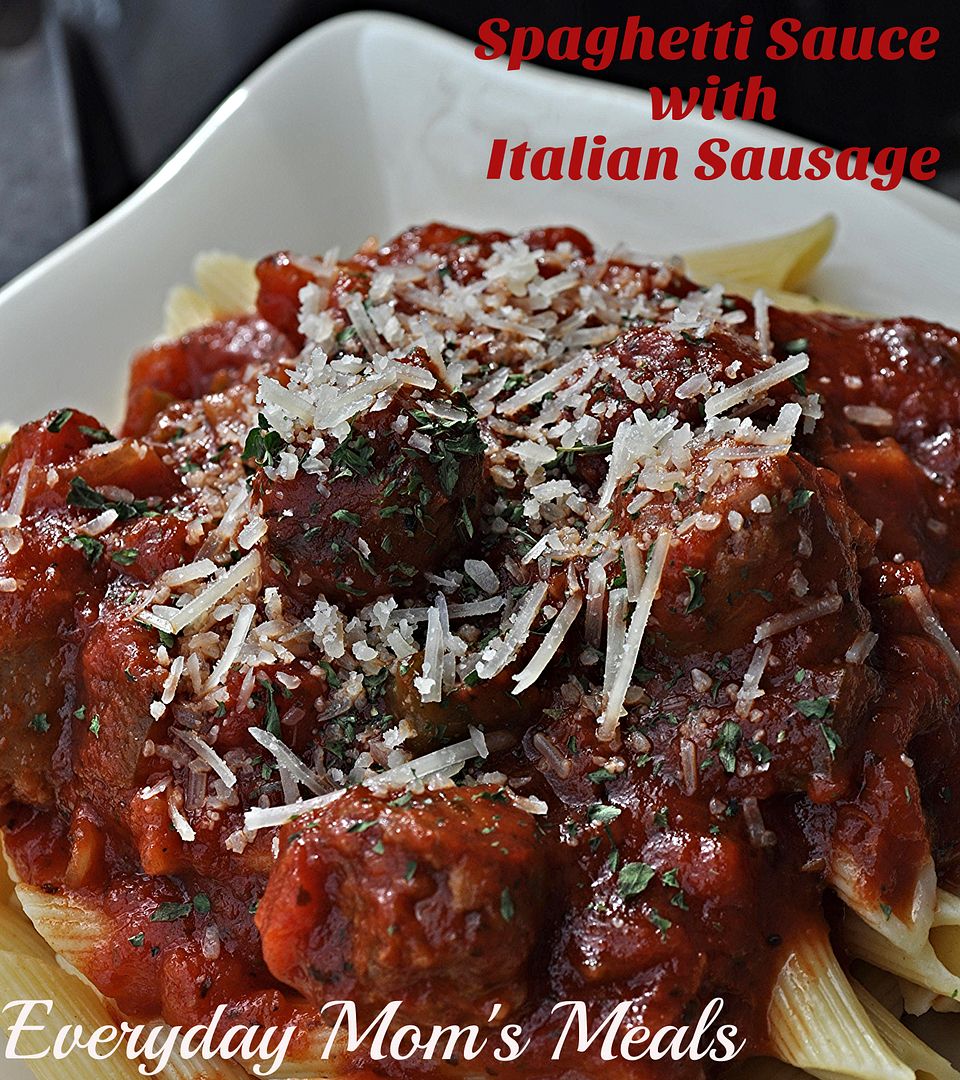 Pasta at Very Good Recipes