From a very young age, my nickname from 99% of my family has always been "Punkin"; and one of my very favorite things on this earth is
pumpkin,
but the nickname came long before the obsession! Pie, bread, mousse, cake....if it has pumpkin in it, I'm a fan. One of the reasons I actually look forward to fall is b/c I know all of the pumpkin desserts will making their yearly appearance. I've even been known to request pumpkin pie for my birthday, in February, instead of cake :) When I shared my recipe for
pumpkin fluff
, I knew it was something I wanted to use to create other desserts too, but just got around to it now. That's what happens when you have a "food to make" list that is a mile long! But after seeing it featured on three other blogs (yay!!), not only did I have a huge craving for it, but I knew it was time to switch it up a little. I figured this was a great way to use it "over" while still letting it's flavor shine through and I was 100% correct! I guess I have yet one more dish to add to the pumpkin line up....rather it be October, or February!
Pumpkin Parfaits
1 (15 oz.) can pureed pumpkin
1 large container Cool Whip
1 small box instant vanilla pudding mix--unprepared
Gingersnap cookies, crushed ( I found some called "Ginger Thins")
1/2 tsp ground cinnamon, plus extra for garnish
1/4 tsp ground ginger
1/8 tsp ground cloves
1/8 ground nutmeg
In a small bowl, combine cinnamon, ginger, cloves and nutmeg. *This is
pumpkin pie
spice.* In a large bowl, combine pumpkin, pudding mix, 1 cup Cool Whip and pumpkin pie spice. Mix well and chill for 1-2 hours. In large glasses, layer pumpkin, Cool Whip, and crushed cookies. Repeat pumpkin and Cool Whip layers. Top w/ extra cinnamon and an extra whole cookie.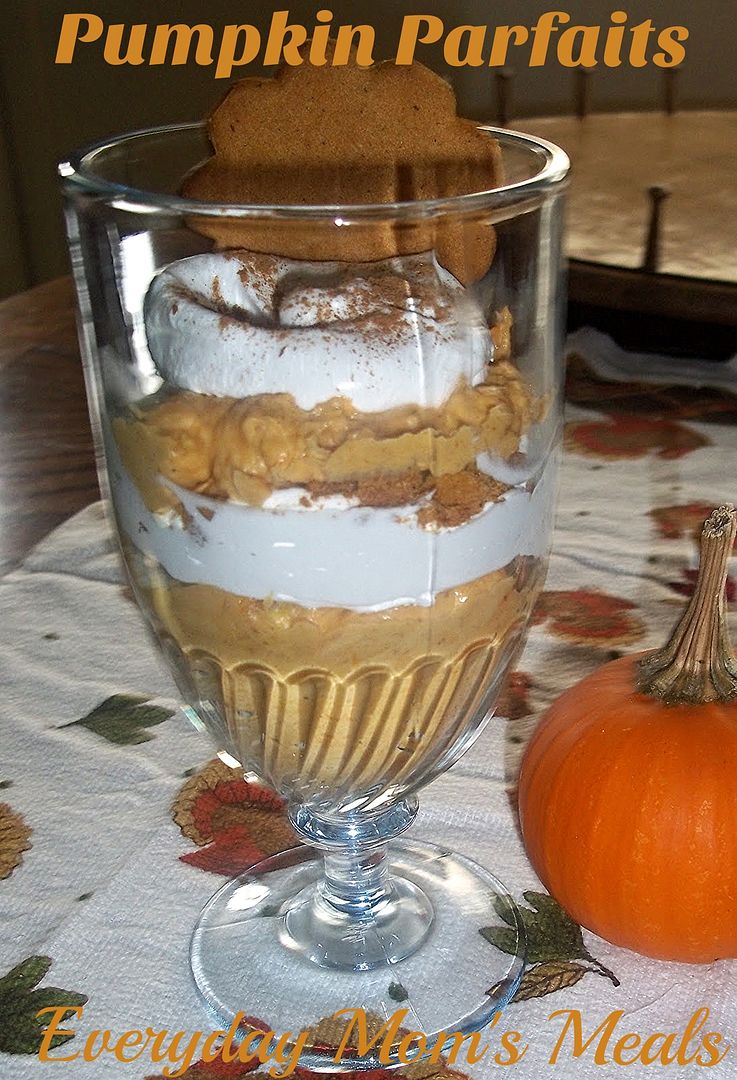 Shared on Sweet as Sugar Cookies Nov. 11, 2011
Shared on Everyday Sisters Nov. 13, 2011
Shared on Make Ahead Meals Nov. 14, 2011
Shared on Home Savvy Nov. 14, 2011
Shared on Mandy's Recipe Box Nov. 15, 2011
Shared on Celebrating Family Nov. 15, 2011
Shared on Naptime Creations Nov. 15, 2011
Shared on Chef in Training Nov. 15, 2011
Shared on Bacon Time Nov. 16, 2011
Shared on Newlyweds Blog Nov. 16, 2011
Shared on This Chick Cooks Nov. 16, 2011
Shared on Something Swanky Nov. 17, 2011
Shared on JDaniel4'sMom Nov. 17, 2011
Featured On