A couple weeks ago my mom and I were having a little QT together. We had lunch and had shopped til we dropped. We were driving back to her house when we passed this gorgeous farm house with a little table of vegetables out front. That's when the magic happened. I spotted a sign with that word every bargain hunter like myself (and mom too) loves to see...
FREE
!!!
Of course we had to stop. And let's just say, we know the brakes on mom's SUV work great! I jumped out and they had beautiful sweet corn, cucumbers, tomatoes and zucchini fresh from the garden. I really was only in need of some cukes for dinner that night, but I couldn't just walk away. I already had corn and maters in the fridge, but no zucchini. So I grabbed one. A huge one. I got back in the car and mom asked me what I was going to do with it. "I have no idea. But it when it's this nice and free, I have to take it." She laughed and knew exactly what I was talking about, because it was something she would totally do too.
So it resided in the fridge for a few days until I finally figured out what I wanted to do with it. This was about the time little man got sick with strep throat too, so I wanted to bake him something yummy, but still soft enough he could swallow it. I knew some muffins warm from the oven, were just what he needed to brighten his day. (After all, the poor kid was missing a day of school after only being back for nine!)
If you are in the need of quick breakfasts for busy mornings, these would be perfect. They can even be eaten on the go! Or make them for a delicious after school snack when the kiddies get off the bus. Or they make a fantastic dessert, warm with a little butter spread on...mmmmm.
If your garden is still giving you plenty of zucchini, here is a great way to use it up. Or maybe you're like me and you have some free produce sitting in the crisper drawer because you too can't pass up a good deal. Either way, these are simple, delicious and zucchini's new best friend.
Zucchini Walnut Muffins
From Taste of Home
3/4 c. flour
1/2 c. sugar
1 c. finely shredded unpeeled zucchini, extra water squeezed out
1/2 c. chopped walnuts
1/4 c. raisins
1/4 tsp. baking soda
1/4 tsp. baking powder
1/4 tsp. cinnamon
1/4 tsp. salt
1 egg
1/4 c. canola oil
Cinnamon/Sugar Mixture
Old Fashion Rolled Oats
Preheat oven to 350. Grease 6 large muffin cups, or use paper liners. In a large bowl combine flour, sugar, baking soda, baking powder, salt and cinnamon. Stir to combine. In a small bowl whisk together oil and egg. Add to flour mixture. Stir until moistened. Fold in zucchini, walnuts and raisins. Scoop into muffin in, filling each 3/4 full. Sprinkle with cinnamon/sugar and a few rolled oats. Bake for 20-25 minutes until a tooth pick comes out clean. Cool 5 minutes on wire rack. Remove from pan. Finish cooling on rack. Makes 6 extra large muffins.
*NOTE*
To make cinnamon/sugar mixture combine combine 1/4 c. sugar and 1 TBS cinnamon. Mix well. Store in airtight container. I keep this on hand at all times. It's great for toast, muffins, etc.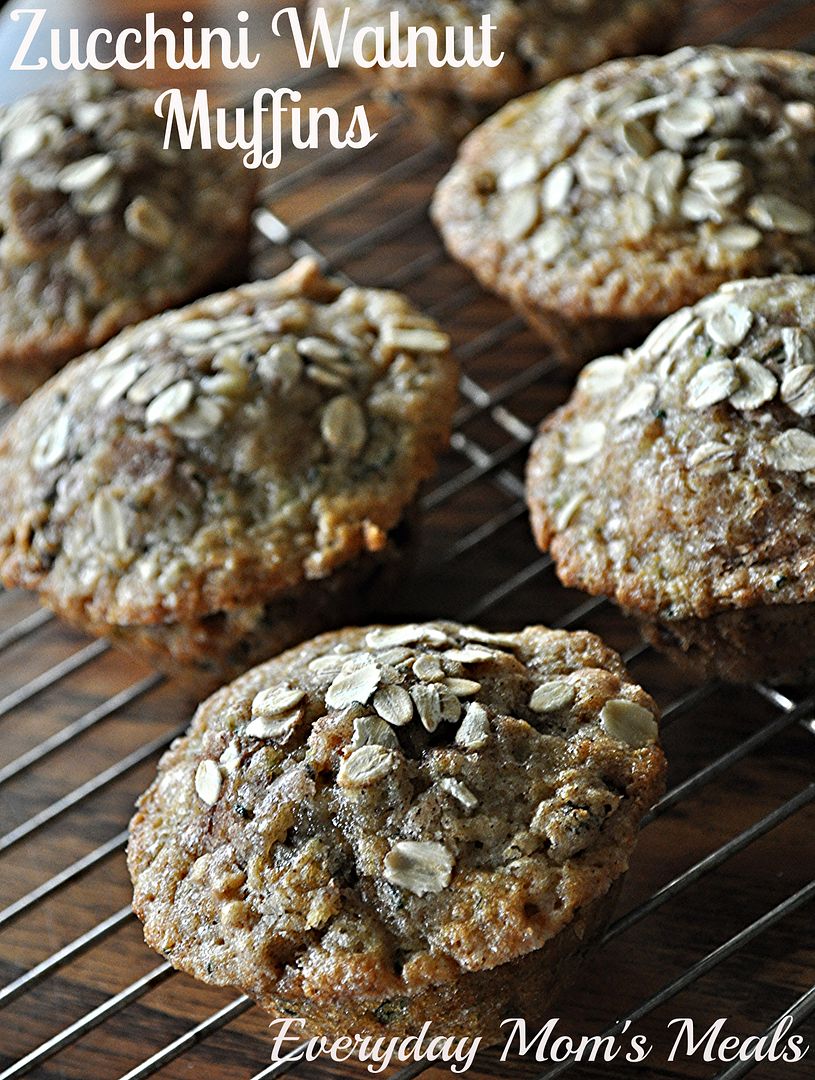 Disclaimer: As a Field Editor of Taste of Home, I share my own thoughts and opinions of this recipe. I am not a paid employee.