I am so excited to not only be bringing you a terrific recipe today, but also sharing with you a fantastic new cookbook from one of my favorite ladies, and a fabulous foodie friend! And if you haven't met her yet, I am so honored to be the one to introduce you to her!
Mandy from South Your Mouth is one of the funniest people I've ever met; even though we've never met in person! Yes, she is also one of those sweet, big hearted, people that you feel like you've known all your life. And even though we've never stepped into the same room with one another, I feel like I know her through her story telling and the friendship we've developed over food and blogging.
If you aren't already a fan of her blog,
South Your Mouth
, you need to be! Now! (Just click that link and head on over!) Her food is delicious and she always has something hilarious about her own life to share. In fact, as much as I love her yummy recipes, her humor and story telling are what keep me coming back for seconds!
And now. Mandy has her very own South Your Mouth
cookbook
! I could not be more excited for her! Inside you will find some of the fabulous recipes from her blog, plus so much more!
Take it from me, each page looks and sounds more scrumptious than the last. Thumbing through it, I had trouble deciding which recipes to try first. I can assure you many, many pages are marked for future cooking. But the minute I saw this I knew it would be first. Why? Well, one, we were already having potatoes that night...I just didn't know what kind. Two, we are tater loving people. We've never met one we didn't like. Three, they were simple and easy...exactly what I needed after a busy day!
These come out flavorful, crispy, but buttery tender and oh so good! They are the perfect side dish to any meal and can easily be made for a few people or a crowd. Great for a family dinner, cookout or pot luck...you will find yourself turning to this recipe again and again.
I'm so happy for my foodie friend and wish her nothing but success with this new venture. I know she won't need it though. Her food, and more importantly, her personality speak for themselves, and she is going to be a huge hit with every single person that is lucky enough to set eyes on this cookbook. Oh, and speaking of lucky, I have one to give away too!! Just scroll down after the recipe to see how to enter!
Garlic and Rosemary Roasted Potatoes
4-5 medium potatoes, about 2 lbs.
2 TBS olive oil
1 TBS minced rosemary
4 cloves garlic, minced, or 1 tsp. garlic powder
1 tsp. salt
1/2 tsp. paprika
1/2 tsp. pepper
1/4 tsp. onion powder
Wash potatoes and cut into wedges (8-10 wedges each depending on size.) Toss thoroughly with olive oil and remaining ingredients. Spray large baking sheet with nonstick spray. Arrange potatoes so that each wedge is laying flat on pan. Bake at 400 for 20 minutes then turn potatoes with a spatula. Cook for an additional 12-15 minutes or until golden brown. (Reduce cooking times a little if using small potatoes.) *NOTE* I actually used red potatoes, quartered, because it's what I had on hand. I also used 1/2 TBS dried rosemary because we prefer it to fresh.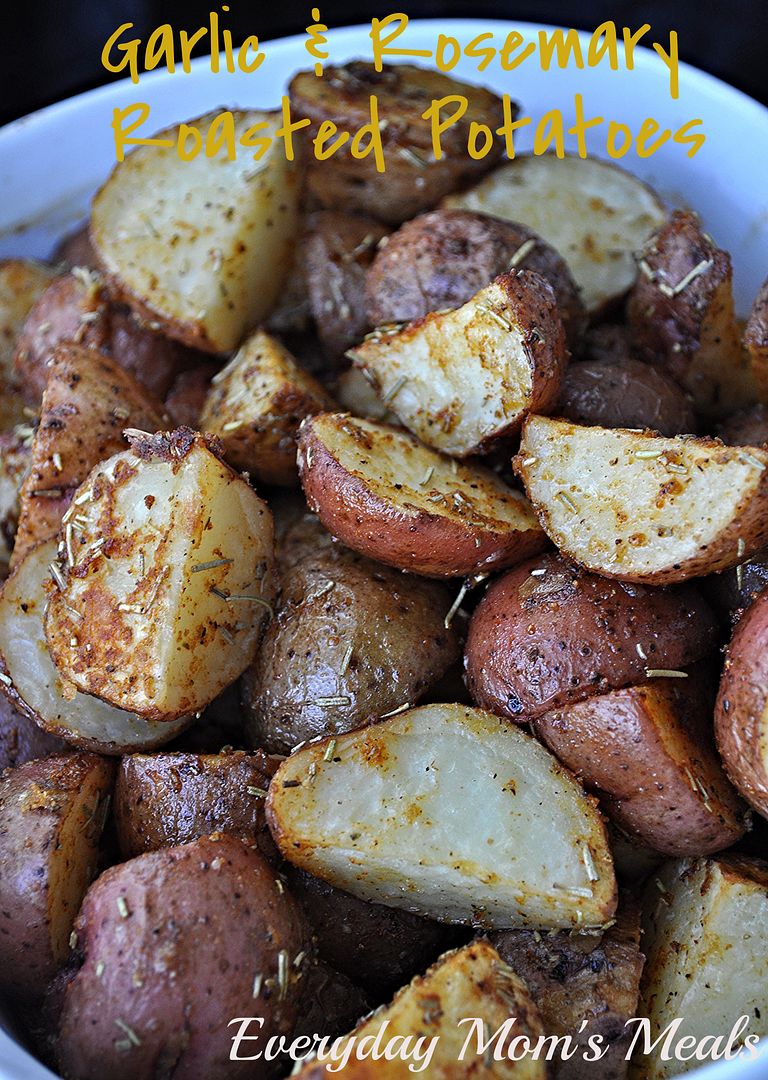 To Enter: Simply leave a comment telling me why you want to win! Easy as can be!
Contest Ends July 16, 2014
Disclaimer: I received (1) copy of the cookbook and (1) to review in exchange for this review. All thoughts & opinions are my own.