I have always been one to have a great memory; and I'm not bragging, it's just a fact. Ask anyone who knows me really well. My mom has always said "She's got the memory of an elephant." And I tend to remember things in a weird way. Give me an event in my life, big or small and there is a
very
good chance I can tell you what I was wearing. I know, crazy! And the only person I know in our family that has even close to as good of memory is my son! Yep, I passed this trait onto him, and he seems to remember things even his mommy can't. So you can imagine my horror a few weeks ago when someone asked me if I had a recipe for
dipping oil
for bread; and upon answering "Yes", giving her the link I realized something. I never got around to sharing the recipe for the foccacia bread I served with it. When I shared the oil I had all intentions of going back to blog the bread too, and evidently my brain was in sleep mode because I totally forgot! I literally sat and stared at my computer screen for at least 5 minutes in disbelief! So, I had to make some, simply so I could blog it! This is a great bread for any busy night, and the perfect compliment to any Italian meal. Serve it will the dipping oil (link above), with a little butter or plain. I guess my memory, like me, is not immune to aging. Or maybe I just need to start remembering what I'm wearing every time I cook!
Italian Foccacia
Adapted from
Allrecipes.com
3 1/4 c. flour
1 envelope rapid rise yeast
1 TBS sugar
1 tsp salt
1/4 c. olive oil, divided
1 2/3 c. very warm water (between 120-130 degrees)
3 TBS shredded Parmesan, divided
2 TBS Italian Seasoning
Mix flour, undissolved yeast, sugar and salt in a large mixing bowl. Add 2 TBS olive oil and water, stirring until well mixed. Spread dough on 9x13 pan. Cover and let rise until doubled, about 30 minutes. Using a wooden spoon handle, poke holes into bread. Drizzle 2 TBS oil over and sprinkle with Parmesan and Italian seasoning. Cover. Let rise 15 more minutes, while you preheat oven to 375. Bake 30-35 minutes until slightly browned. Allow to cool slightly before slicing. If desired, serve with dipping oil, recipe link above.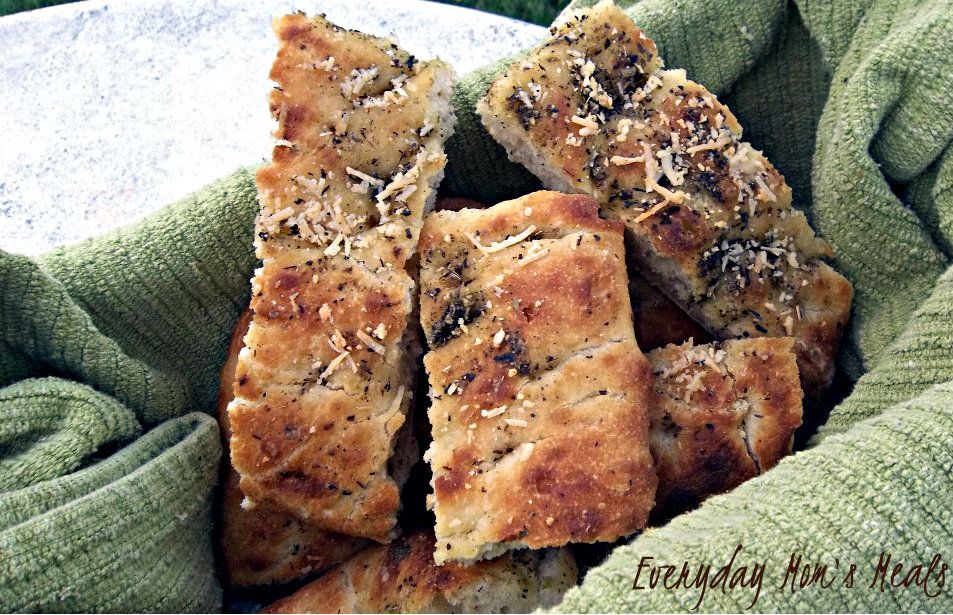 Bread at Very Good Recipes
Pin It