You know I am the biggest advocate for taking a little help from the store where you can. I think there is absolutely no shame in it. We have all been there, and will be again. It's supper time, but there is no time. You need something fast, but still tasty. Quick family meals are where
Hamburger Helper
comes in!
Something from our childhood, made new again with some great new flavors! Plus, did you know you can feed your family with one box and one pound of ground beef? Yep, you read that correctly! And now, with the ground beef
rebate
(more about that in a minute) you can get dinner on the table for about $1.50! Almost too good to be true, I know. But it is!!
Helper is a great dinnertime solution because not only is it convenient, but it is a crowd pleaser. Watch it be gobbled up. Or if there does happen to be some leftovers, that's okay too...lunch the next day!
Launched in the 1970's,
Helper
has always been a brand synonymous with value. It gives you the ability to stretch your dollar while giving your family a yummy and hearty meal. Oh, and let's not forget it gives you something else we all love...a chance for a "one pot wonder" supper!
About that rebate! Right now, when you buy 3 boxes of Helper, you can go
online
and print out a rebate form for a
free
pound of ground beef! FREE!! How much do we love that word??!!
I picked a variety I knew my family would love, something with an Italian flare. Then I decided to add a few extra veggies just for good measure, and ramp up the flavor even more. Plus, it lets me still only use one pound of beef for two boxes, because the veggies kind of act like "filler" instead of more meat. In the end, it was a big skillet of a pasta that tasted like pizza...how can you go wrong? Plus, you can easily add your favorite pizza toppings! I think black and green olives would be delicious. Oh, and banana peppers. See, the possibilities are endless! Just remember to go and get the great
rebate
offer so you can feed your family on the cheap too!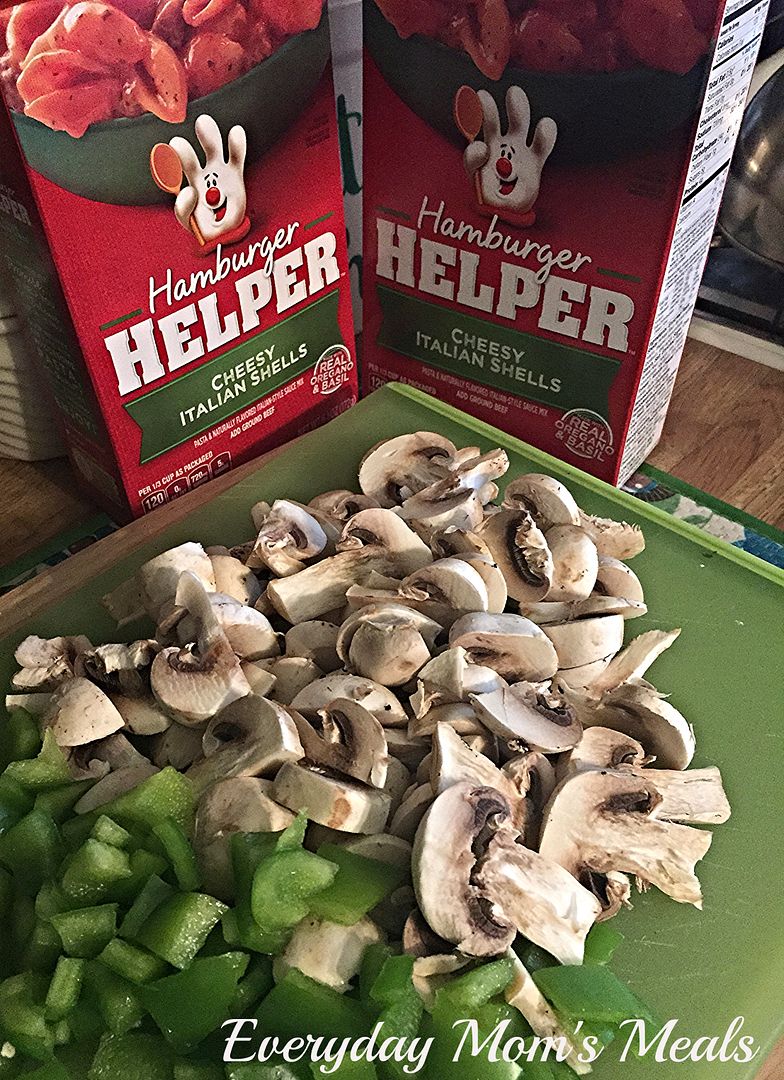 One Skillet Pizza Shells
2 boxes Hamburger Helper Cheesy Italian Shells
Milk and Water,
check box for amounts
1 pound ground beef
8 oz. button mushrooms, sliced
1 green bell pepper, chopped
1 tsp. garlic powder
1/4 tsp. red pepper flakes
1/2 c. shredded Parmesan cheese
Dried Parsley
Salt and Pepper to taste
In a large skillet over medium high heat, brown beef until no longer pink. Season with salt and pepper. When beef is almost done, add mushrooms and peppers. Stir to mix. Continue cooking until veggies are tender and beef is cooked through. Drain if necessary. Season with garlic powder and red pepper flakes. Add water and milk,
per package instructions
. Add pasta. Stir. Bring to a boil. Reduce heat, cover and simmer for 20-25 minutes, stirring frequently, until pasta is tender. Sprinkle with cheese and dried parsley. Replace lid. Allow to sit for about 5-7 minutes until cheese melts and sets.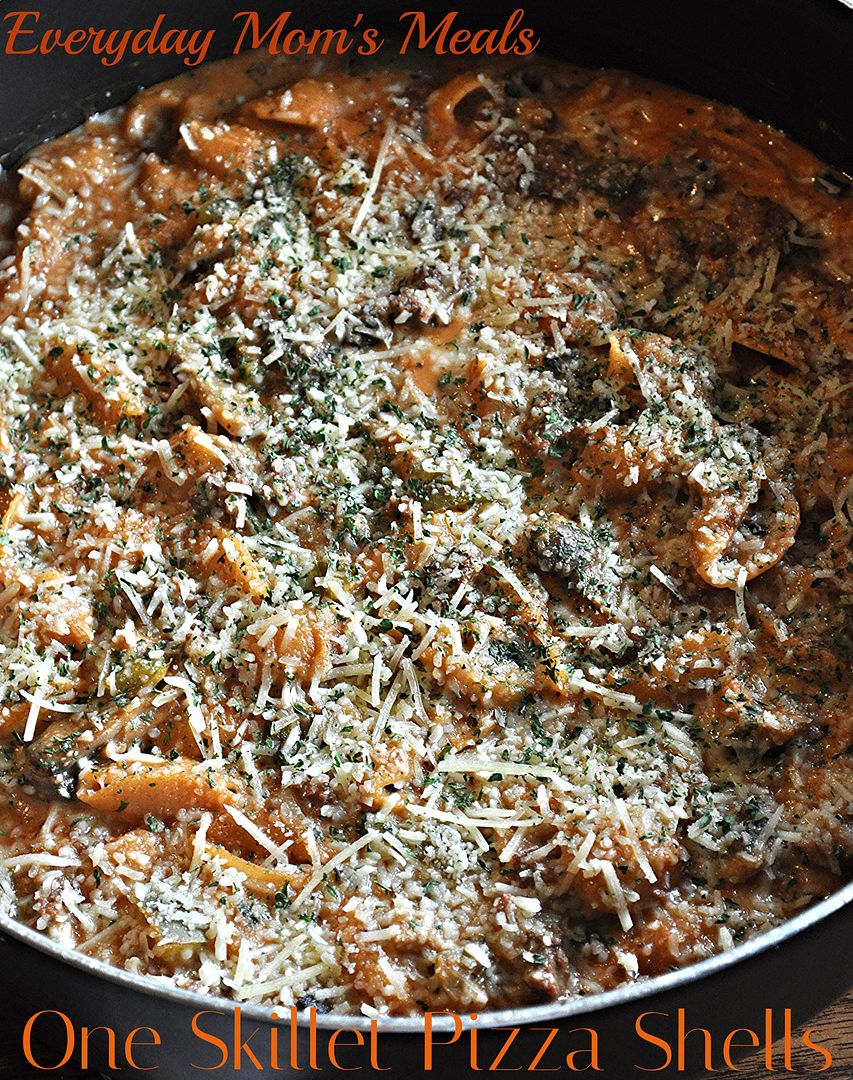 Shared on The Country Cook April 24, 2015