I love stuffing. In fact it's one of the things I love most about holiday meals. But I can't even lie, we eat stuffing year round. For any of you that read my meal plans on a weekly basis, you know many times if I serve pork chops or ham steaks, stuffing is one of the side dishes included.
Now, here is something you might not know. Every single time I make stuffing, it's from a box! Yep, it's one of the few things I don't even attempt to make from scratch. And if I'm being completely honest, I actually prefer the boxed variety to any homemade I've ever had! I'm certain it's because what I grew up with both from my mom, and her mom. My other grandma always made homemade, but on my mom's side, it always came from a box, and that was okay with us.
I'm sure many of you enjoy making your own, or maybe you have a tried and true family recipe; and I have all the respect in the world for that. There are so many kinds of stuffing, or dressing, out there, who am I to say which is the best? I just know what our family enjoys the most, and it's what we stick to.
But that doesn't mean we can't make it a little better. Jazz it up a little so to speak. Add some fresh, yummy things, and that dried stuffing mix is brought back to life in a whole new way. And nothing says holiday more than apples and cranberries! The flavor of this version is like nothing I've ever made before, and it really tasted like homemade!
This recipe fantastic because you can take a little help from the store, making one thing on your menu a little easier, and easily adapt it to feed a few or a crowd. Not to mention, it's pretty economical too. This time of year you can usually find the boxed mixes for $1 or less!
If you have a great stuffing recipe and don't really groove on the boxed kind, that's okay. Maybe you can incorporate parts of this recipe into your favorite version and still come up with something new. But if you're like me and willing to take a little pre-made assistance, here is one way to make it just a little more special!
Cran-Apple Pecan Stuffing
From Kraft
1 box stuffing mix for turkey
1 1/2 c. apple juice
2 TBS butter
1 small apple, finely chopped
1/2 c. dried cranberries, extra for garnish
1/4 c. chopped pecans, extra for garnish
In a medium saucepan bring apple juice and butter to a boil. Add stuffing mix, apples and cranberries. Stir. Remove from heat. Cover. Let sit 5 minutes. Fluff with a fork. Add pecans. Stir well. Transfer to serving dish. Garnish with extra cranberries and pecans.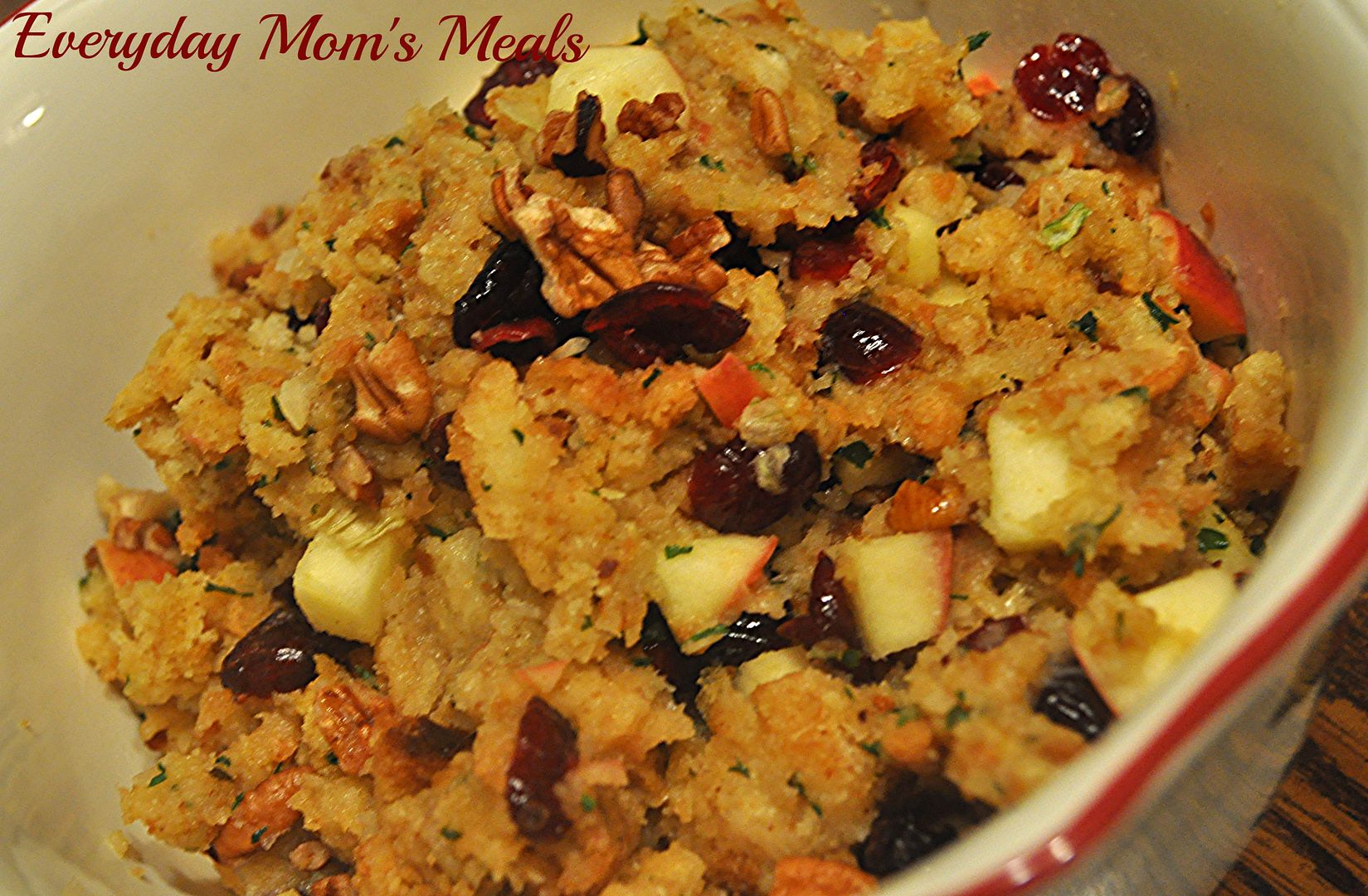 Stuffing at Very Good Recipes