Oh, how excited am I??!! I have been looking forward to sharing today's post with ya'll for a while now! See, my dear friend Judith aka The Midnight Baker has published her very first cookbook, and it is a winner, with a capital W! Plus, I am so incredibly honored that she not only included a recipe of mine (Chicken and Noodles page ) but also had the nicest things to say about our friendship, and even asked me to include a quote on the back! I feel so important!
The Classic Slow Cooker
is filled with recipe after recipe that you are going to love! So many of us are looking for ways to use our slow cookers more and more, and I would bet money many of you will want to try every single dish Judith has included.
When I started flipping through its beautiful pages, I was immediately drawn to this recipe. One because I make nothing in my slow cooker as much as soup. It is definitely my go-to this time of year. And two, because it was a
bean
soup! Bean soups are incredibly economical, hearty, and are great heated up on day two and three. Mr. E takes leftovers to work most days for lunch, so when I can make a meal stretch throughout the week for him, it's an added bonus! I tweaked it a bit to fit our tastes and what I had on hand, but would eat it the original way just as easily!

This is a terrific meal for those bitter cold days when you just want to come home to something warm that will fill you up without much work. Put it together in the morning and come home to a comforting bowl of deliciousness. Add some crusty bread and supper is served!

Oh, and the other fantastic thing about my friend Judith? She made sure I got 2 copies so I could give one away to a lucky EMM reader! Just scroll down after the recipe to see how you can win!
Slow Cooker
Hearty Northeast Bean Soup
2 c. northern beans
2 c. smoked sausage, chopped
3 carrots, diced
1 small onion, diced
1/2 tsp. dried basil
3 celery hearts, diced
4 c. vegetable broth
Salt and Pepper to taste
Dried parsley
Cover beans with water and soak overnight. Rinse and drain well. Add to slow cooker. Add all other ingredients. Stir to combine. Cook on HIGH for 2 hours and LOW for 8-10 until beans are tender. Garnish with parsley before serving.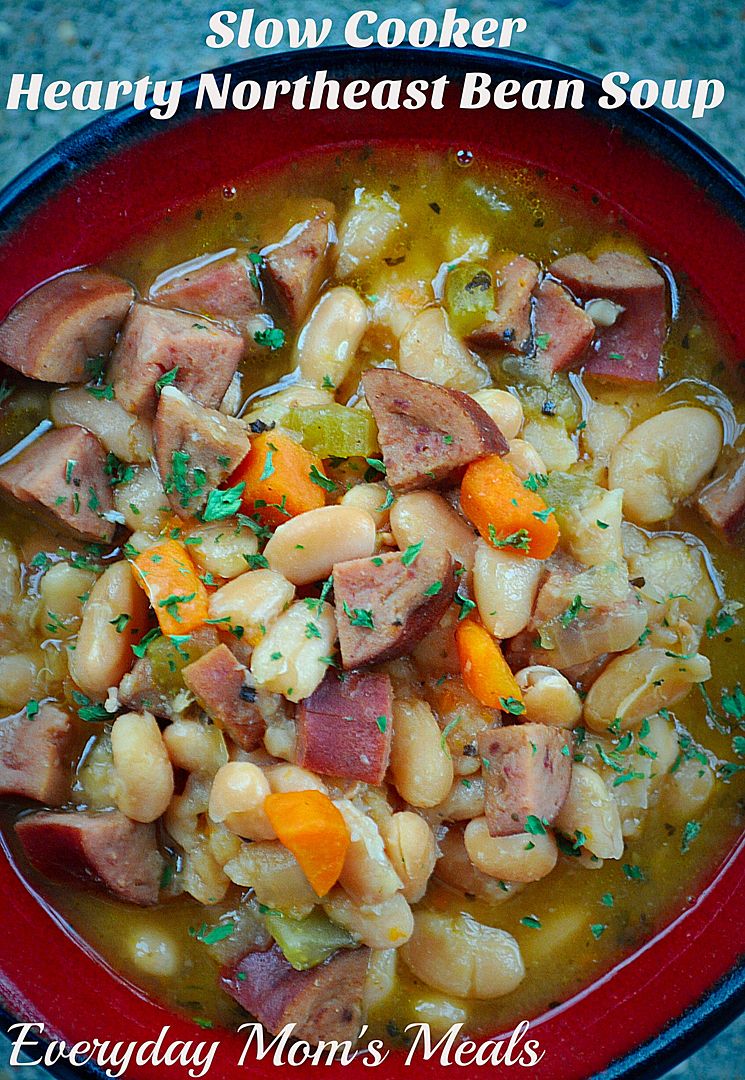 ***GIVEAWAY***
To Enter: Simply leave a comment telling me your favorite slow cooker soup.Include an email address so I can find you!
Bonus Entry: Like The Midnight Baker on Facebook
Open to US Residents ONLY 18 and older
Contest Ends: November 30, 2015