As some of you know already I am lucky enough to be part of the Yum Squad for Peanut Butter & Co., the makers of the best peanut butter I've ever tasted! We squad members had a challenge put to us a couple months ago, and I for one was up for the task!
It was simple. We were sent some of their delicious peanut butter and a mystery ingredient, and we were to create a recipe using those. Easy right??!!! Well, if I'm being completely honest I was a bit nervous when my box got here, because it could have had anything in it. What the heck was I going to do if I was supposed to mix peanut butter with anchovies? Or pigs feed? Or chocolate covered grasshoppers? Okay...so my imagination kind of got carried away.
So, can you imagine my pure relief and joy when I opened it up, and there was a bottle of sriaracha? Yep, something I already cook with. Something I have in my cupboard at all times. Something my boys will pretty much put on anything. Whew....how lucky was I?
The second I thought of the hot of sriaracha and the sweet of peanut butter, my tongue immediately called out for something Asian! It's a flavor combo we have all the time in Asian dishes I make at home, and ones we have at our favorite restaurants. They meld so well together, and taste so great, it's one of those things you would never guess go together, but truly do.
Need a seafood dish for your Lent meal tonight? This would certainly put a little spice in your step! I love this recipe because it's a great base that you can build from. Take the noodles, add whatever veggies you like, and swap out the shrimp for chicken or pork. You'll still get a tasty, simple meal!
I'm not always a fan of surprises. I think sometimes life can throw you some doozies, but in this case, it was a fun, and even more importantly, absolutely delicious surprise. Oh, and my friends at Peanut Butter & Co. have some peanut butter they want to give you too! Just scroll down below the recipe to see how to enter to win!
Spicy Peanut Noodles with Shrimp
2 TBS vegetable oil
1 (13.25 oz.) box whole grain thin spaghetti
1 (12 oz.) back frozen shrimp, thawed
1 green bell pepper, thinly sliced
1 red bell pepper, thinly sliced
1 1/4 c. matchstick carrots
1 garlic clove, minced
1/4 c. soy sauce
1/4 c. creamy peanut butter
1/4 c. lemon juice
1/2 c. chicken broth
1-3 tsp. sriracha sauce, to taste
4 green onions, sliced on bias
1/3 c. chopped cashews
Cook pasta according to package directions. In a medium bowl whisk together soy sauce, lemon juice, peanut butter, chicken broth and sriracha until smooth. Set aside. In a large skillet, heat oil over high heat. Add shrimp and garlic. Saute' until shrimp are almost completely pink. Add peppers and carrots. Saute' stirring often until peppers are crisp-tender, about 5 minutes. Pour peanut butter sauce into skillet. Bring to a boil. Reduce heat to low and simmer, about 5 minutes until sauce is slightly thickened. When pasta is cooked, drain well. Add to a large bowl. Pour shrimp sauce down over. Mix well to coat evenly. Toss until completely combined. Garnish with chopped green onions and cashews. *NOTE* I like to use shrimp with the tail on to decrease shrinking.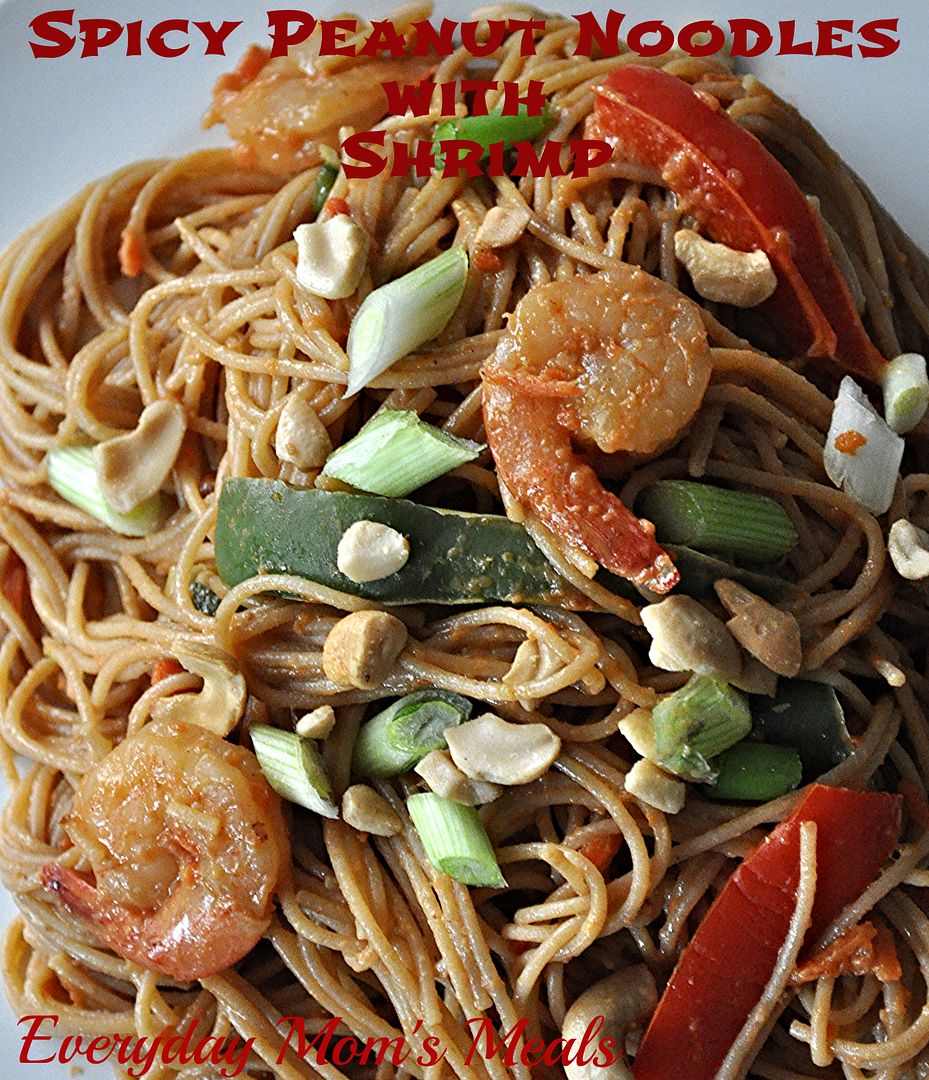 Shared on The Country Cook Mar. 6, 2015
To Enter: Leave a comment telling me what savory dish you love to make with peanut butter!
(1) Winner Will Receive:
(1) Jar Smooth Operator (creamy) Peanut Butter
(1) Jar of His/Her Choice Peanut Butter
(See flavors here.)
Disclaimer: I received free product as part of The Yum Squad. All thoughts and opinions are my own.