I first shared this recipe a few years back, and have been wanting to "re-do" it ever since. The picture wasn't pretty at all, and it is so incredibly yummy, it deserved better!

Since today is the first official day of spring, I thought it would be the perfect time to debut it once again. After all, if spring is here, that means grilling season is within reach and barbecues and picnics aren't far behind.

This is mom's recipe, but before it was hers, it was grandma's. No wonder it is so good! Tried and true for three generations, you can't argue with success like that! In our family, no picnic is complete without it, and it doesn't stop there. I have requested this for so many birthday suppers, I've lot count. Even when I was a kid, I wanted mom to make it, in the dead of February, every single year.

This is probably the easiest coleslaw recipe I have, and any time anyone asks for it and tries it, they become instant fans too. Creamy, cool, crunchy, sweet, tangy...it goes with everything from burgers to steak, ribs to hot dogs.

Summer grilling season is just around the corner. After a long horrendous winter, I am so ready! But I'll be honest, I'm not even waiting until summer. It's above freezing which means the grill is getting fired up ASAP!
Mom's Sweet n Tangy Coleslaw
1 small head cabbage shredded, or 1 (10 oz.) bag pre-shredded cabbage
3/4 c. whipped salad dressing
1 tsp. sugar
1 1/2 tsp. apple cider vinegar
1 TBS dried parsley
Salt and Pepper to taste
Paprika for garnish
In a small bowl mix salad dressing, sugar, vinegar, parsley, salt and pepper. Stir until well combined. Pour over cabbage. Mix well to combine Sprinkle with paprika. Chill until ready to serve. *NOTE* You are more than welcome to use mayo in place of the salad dressing, but mom never has. I have no idea how it will taste.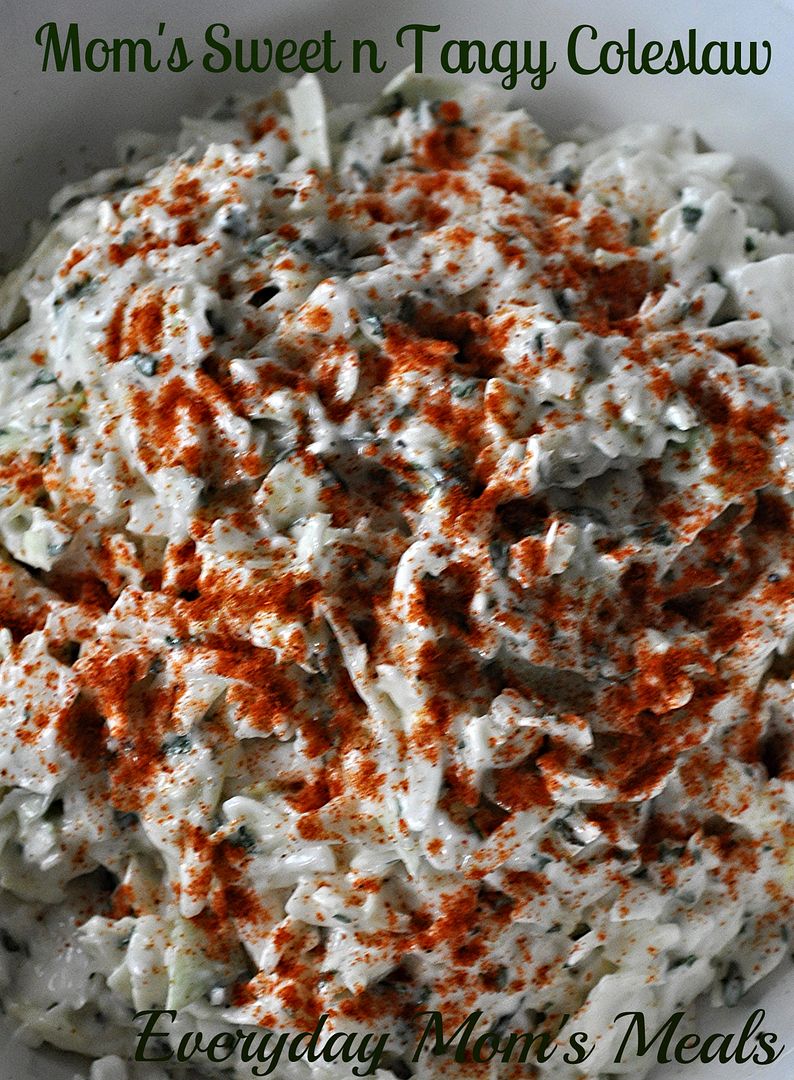 Shared on The Country Cook Mar. 20, 2015