It's finally here people! Super Bowl weekend is upon us. Okay, so maybe I'm a little more excited than I should be. But let's face it. Even if you aren't a football fan. Even if you don't know what teams are playing. Even if you don't care about the commercials or the half time show...we can all unite behind one aspect of Sunday's game. One important, universal tradition near and dear to all our hearts...the FOOD!

Sure, I love the game. I love the excitement. I love to watch all 4 quarters of football. But I realize in the world of women, I'm part of the exception group. (And yes, I remind my husband often how lucky he is to have a wife who not only likes the game, but understands it as well!) Many of you ladies out there could care less about those 4 hours Sunday night, but you still put on the happy face, fire up the ovens and make sure all the pigskin fans in your life have a great time.

Here is a dish that is as simple as chopping, stirring and pouring; and in about a half hour, you have something creamy, delicious and perfect for dipping! In fact, this one is so good, you might want to make two batches because it's going to go fast! Especially when you are eating the first before you can set it out for the others!

If you love spinach artichoke dip, this is very similar. And it's not missing the spinach because we don't like the green stuff. We love it! I just felt like something a little different this time. Plus, if you've got kids at your Super Bowl party, the spinach might turn them off a little, but this cheesy goodness won't! But feel free to add some spinach for extra flavor. I'm sure it would be delicious!

Sunday will be one of the biggest foodie days of the year. Be sure to have yummy things for everyone to nibble on, as they root for their favorite team. Or in our case, with our team sitting this one out, yummy things to nibble on while we watch the commercials and scream at the refs!
Hot Artichoke Dip
1/2 c. sour cream
1/2 c. mayo
1 (14 oz.) can artichokes in water, drained and chopped
1 tsp. Tabasco
1 tsp. lemon juice
1 tsp. garlic powder
1 c. grated Parmesan cheese
Salt to taste
Preheat oven to 350. In a medium bowl combine sour cream, mayo, artichokes, hot sauce, lemon juice, garlic powder, cheese and salt. Stir to combine. Spread into a 9 inch pie plate or a quiche plate. Bake for 25 minutes. Increase heat to 375 and bake 5-10 minutes more until browned on top. Let stand 15 minutes before serving. Serve with crackers, pita chips, etc. (Or seriously....eat it with a spoon!)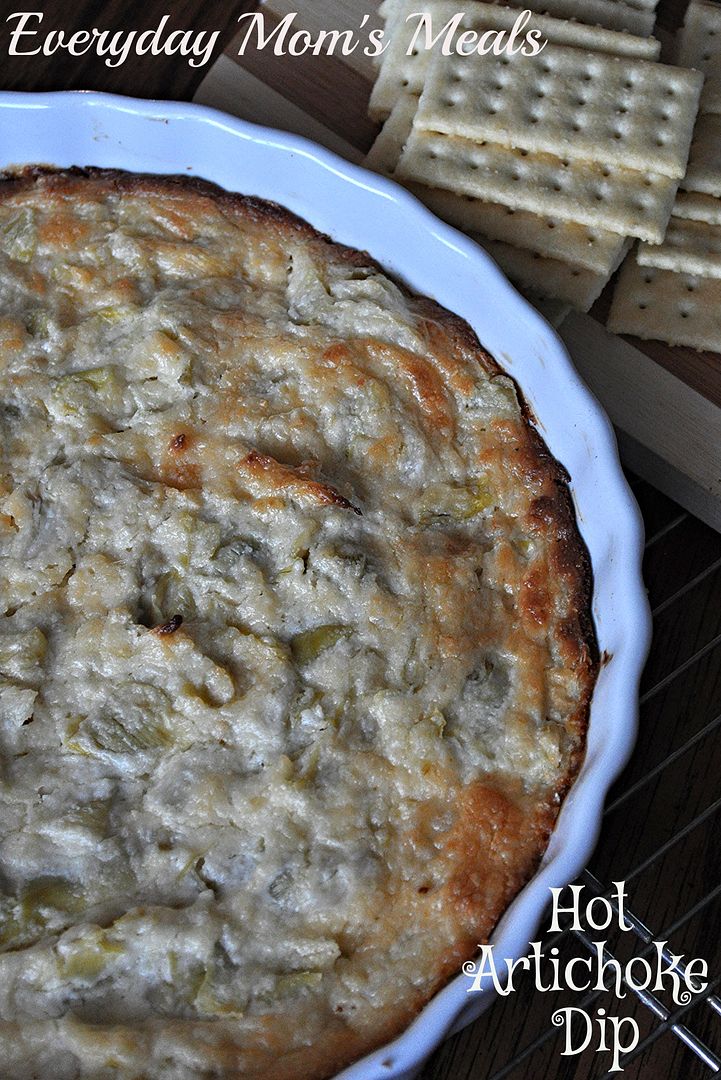 Shared on The Country Cook Jan.30, 2015