Technically the first day of spring this year was March 20, 2013...that's for those of you who were buried under snow, hence not realizing it! Or like us, had a frigid week, beginning with a school cancellation due to ice, only 2 days before spring was to arrive. We have had 3 school cancellations this year due to weather, two of which came in March! Apparently, Old Man Winter didn't know he had over stayed his welcome and needed to move on.
Anyway, on this cold, icy "no school" day, I decided it was the perfect opportunity to play with my menu plan a little. See, I was supposed to be testing a new Crock Pot soup recipe later in the week, but since I had some extra time on my hands in the morning, plus what goes better with ice, wind and freezing temps, I switched a couple meals around so we could be warming up with a big bowl of soup later in the day.
This soup is a veggie lover's dream! So many colors, varieties and textures, you won't even miss the meat! In fact, if you use vegetable stock instead of the chicken (I used it because I had it on hand) it would make a fantastic, filling, vegetarian meal. The one ingredient that first caught my eye was
kale
. I love this dark leafy green, but I don't cook with it enough. In fact, the last time I did so was another soup, my
Creamy Chicken and Wild Rice
soup...and that was in January 2012! See, I told you I don't cook with it enough! This is also a great recipe because you can mix up the veggies you add. Whatever you have in the crisper, or whichever ones are your family's favorites, throw them in too! In fact, the original recipe didn't call for green beans at all, but I had some beautiful fresh, organic ones just waiting to be used up, so I thought why not.
If it is looking more like Spring where you are, I am sure you are as happy as can be. But if you are in an area that winter has camped out a little extra longer, find some solace in this soup. Either way, it's a comforting, healthy and delicious meal to come home to!
Crock Pot Minestrone Soup
Adapted from Fix It and Forget It
6 c. chicken broth
4 carrots, peeled and diced
4 ribs celery, diced
1 medium onion, chopped
1 small zucchini, diced
1 c. kale, chopped
1/2 c. fresh green beans, chopped
1/2 c. pearl barley
1 (15 oz.) can cannellini beans
1 (28 oz.) can crushed tomatoes
2 cloves garlic, minced
1 tsp. dried parsley
1 tsp. dried oregano
1/2 tsp. dried thyme
Salt and Pepper to taste
Grated Parmesan cheese, optional
Mix everything in Crock Pot. Cook on LOW 6-8 hours until veggies are tender. Garnish with cheese if desired.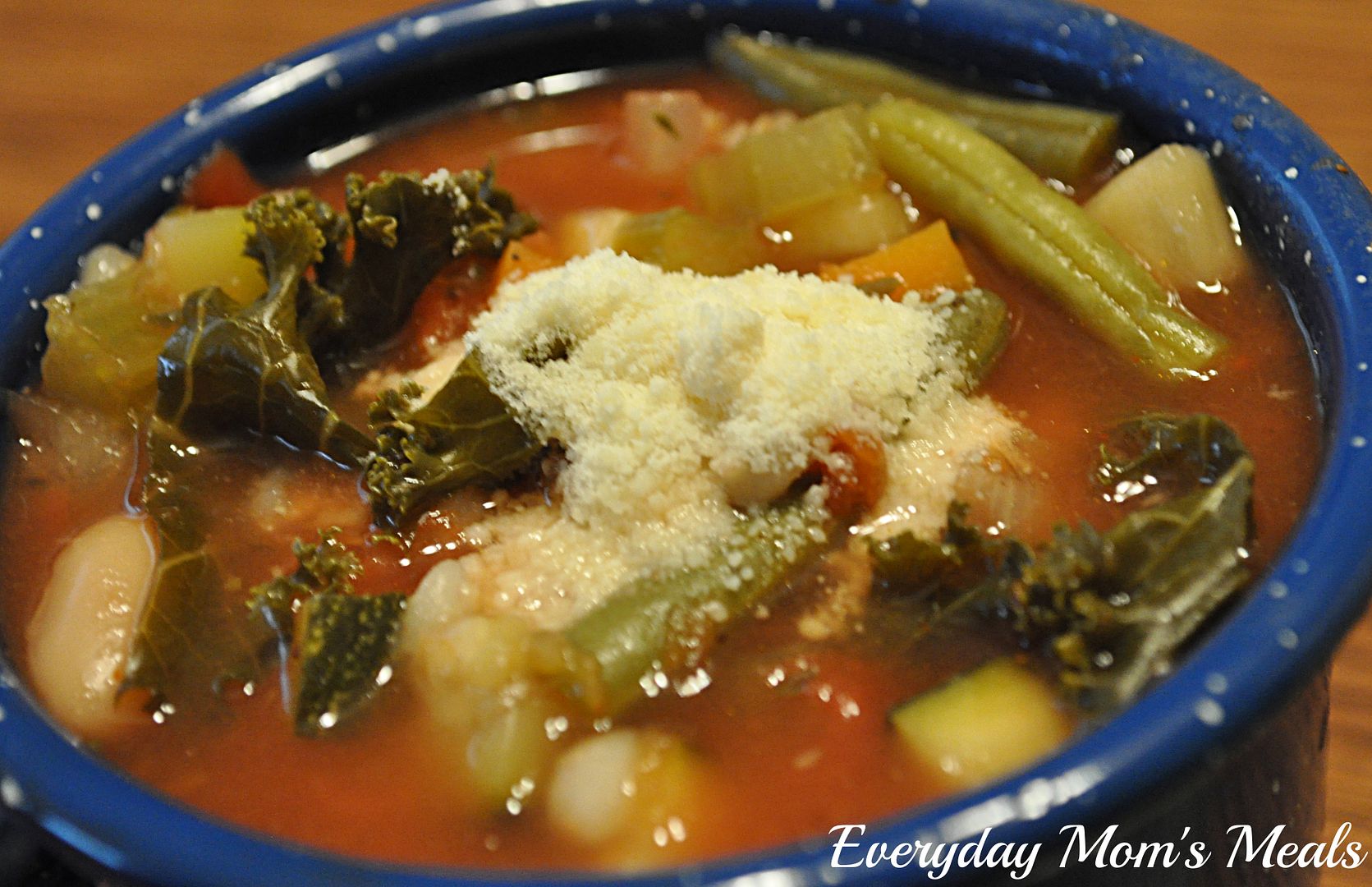 Crock Pot at Very Good Recipes
Pin It