I think every woman deserves a night off from cooking on her birthday. I'm sorry men, that's just the way it is. But I am too much of a realist not to admit that there are just times we're all going to have to! This year w/ my birthday being on a Monday, I accepted the fact we would be having a "normal" day w/ school, work, chores and I would be making dinner. However, I decided upon that realization that it would be
very
simple!! Frozen pizza was just the thing! But we are the type of family that can't survive by "pizza alone". We need some sort of side dish, salad, etc. I had come across this recipe a while ago, was waiting for the right time to use it, and thought it wasn't too complicated for my night "off". This is truly one of the
best
salads I've ever made and my new favorite version! From now on, any time frozen pizza is on the menu, this will be too! Everyone deserves a day off, especially on your special day, even if it's only "sort of" off!!
Easy Caesar Salad
Adapted from Taste of Home
2 hearts of Romaine, chopped
Garlic Croutons
Shredded Parmesan Cheese
Mix all together and drizzle w/ dressing and top w/ extra cheese if desired.
Dressing:
1/4 c. mayo
1/4 c. shredded Parmesan cheese
2 TBS milk
1 TBS Dijon mustard
1 TBS lemon juice
1 garlic clove, grated or minced
Salt & pepper to taste
Whisk all together until well combined.
~Join me for Tasty Tuesday on
Formula Mom
~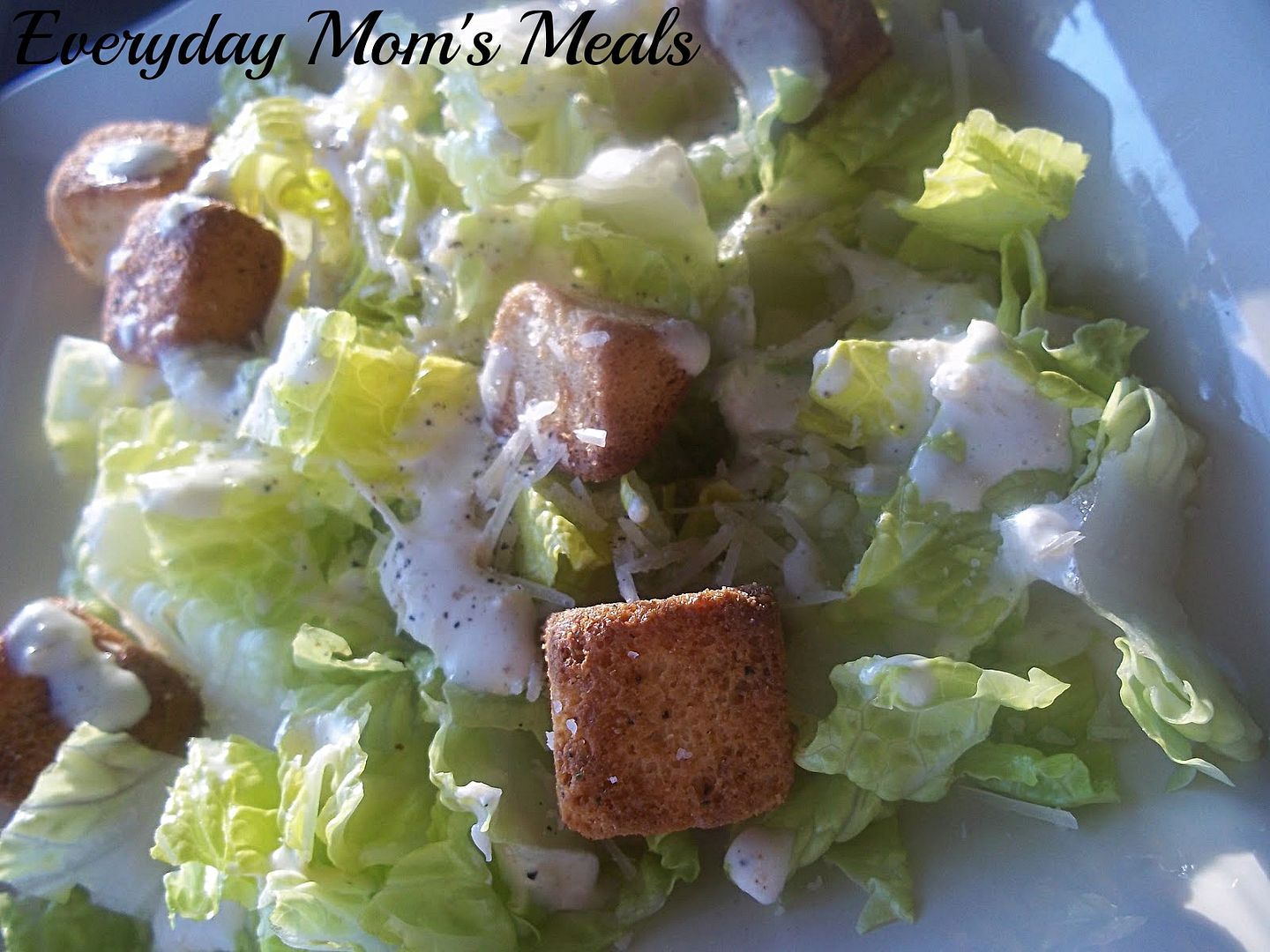 Shared on Mandy's Recipe Box Mar. 6, 2012
Shared on Chef in Training Mar. 6, 2012
Shared on Celebrating Family Mar. 6, 2012
Shared on Lady Behind The Curtain Mar. 7, 2012
Shared on Newlyweds Blog Mar. 7, 2012
Shared on It's A Keeper Mar. 8, 2012
Shared on Miz Helen's Country Cottage Mar. 8, 2012
Shared on Amee's Savory Dish Mar. 9, 2012
Shared on The Country Cook Mar. 9, 2012
Salad at Very Good Recipes
Pin It