Sometimes it's amazing to me the vastness of food in this great country of ours. Each region has it's own specialty, and they are every so proud of it and happy to tell you they make it better than anyone else! In New England, you will get some fine clam chowder and lobster. In the west, you can indulge in some great Tex Mex or more traditional Mexican dishes. And in the south? Well, let's just say if you like either saucy ribs or fried chicken, then hit the road and head to one of our hospitable southern states! These people know their chicken; and their chicken is breaded and fried just like mama used to make!
It seems like every time I turn on
Diners, Drive Ins and Dives
on
Food Network
, Guy Fieri is biting into a juicy succulent piece of chicken right out of the fryer. This has caused a major void in my life b/c I don't have a piece to eat while I watch! I'm hungry for some traditional fried chicken! But let's be honest, I'm the mom who is all about every day food on the table as quick as possible. And while I understand it's not a complicated dish and it doesn't take all the time in the world, I love finding shortcuts and new ways of preparation to diminish that time even more. When I saw this in a
Taste of Home
magazine I knew it would be a perfect compromise- my craving satisfied but in a more timely manner! It has all the makings of that Southern comfort food we all know and love, but with a busy mom twist!
Southern Fried Chicken Tenders
1 egg
1/2 c. buttermilk
1 c. all purpose flour
1 1/2 tsp. garlic powder
1 1/2 tsp. pepper
1/2 tsp. salt
1/2 tsp. paprika
2 lbs. chicken tenders
Vegetable oil for frying
In a shallow bowl, whisk egg and buttermilk. In a separate bowl, combine the flour, garlic powder, pepper, salt and paprika. dip chicken in egg mixture and then flour mixture. Heat an electric skillet to 375 and fry chicken a few pieces at a time for 2-3 minutes on each side or until no longer pink. Drain on paper towels.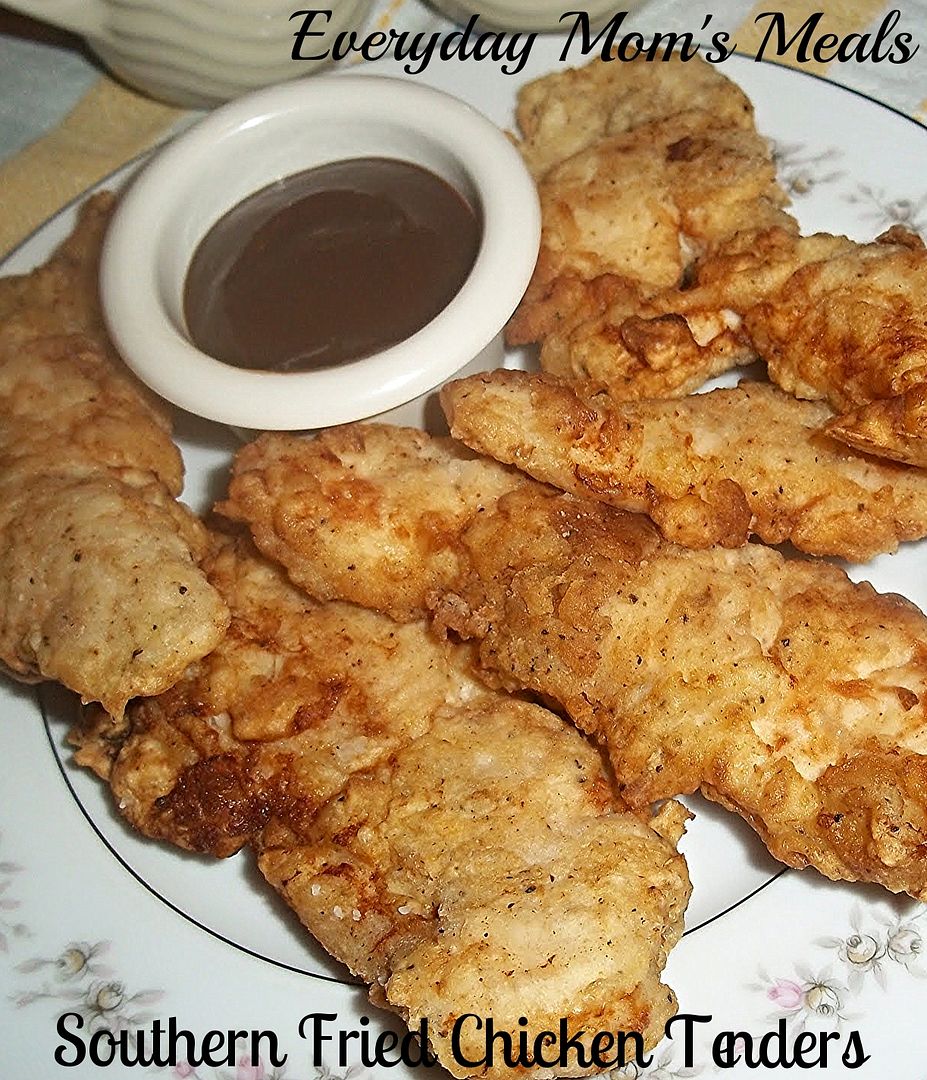 Shared on Mandy's Recipe Box Aug. 9, 2011
Shared on This Chick Cooks Aug. 10, 2011
Shared on Lark's Country Heart Aug. 10, 2011
Shared on Lady Behind The Curtain Aug. 10, 2011
Shared on Miz Helen's Country Cottage Aug. 11, 2011
Shared on Around My Family Table Aug. 11, 2011
Shared on Prairie Story Aug. 11, 2011
Shared on Mangoes and Chutney Aug. 12, 2011
Shared on It's A Keeper Aug. 12, 2011
Shared on Make Ahead Meals Aug. 15, 2011
Shared on The Saturday Evening Pot Aug. 15, 2011
Featured On