Sunday dinners at Grandma's. Oh the images those words can conjure up in our heads. Maybe an Italian grandma slaving away over the stove all day making the perfect "gravy" for over some pasta. Or maybe a little lady taking a roast chicken from the oven with mashed potatoes boiling away stove top. Any way you cut it, the images lead to loved ones gathered around the table, enjoyed delicious food cooked with love.
For me, growing up 6 hours away from both of my grandmas, I wasn't lucky enough to have a lot of Sunday dinners with them, but that doesn't mean I can't appreciate how special it is! Plus, my son is so blessed to grow up about 20 minutes away from both of his grandmas, so he will be able to have those memories I was never able to.
And now, thanks to my friends at
Gooseberry Patch
and their new cookbook,
Sunday Dinner at Grandma's
, we can all enjoy dishes that would make any granny proud, any day of the week! Oh, the yummy things they compiled in this one! It's cover to cover filled with so much deliciousness!
The minute I saw the word goulash, I was intrigued. Then when I went on to read the recipe, my curiosity was only solidified. This dish is unlike any goulash we've ever had. Okay, it has ground beef in it, but that is where the similarities end. Well, that and the fact they are super simple, perfect for a weeknight and sure to please your hungry bunch. To me, this tastes like something the cowboys would eat out on the trail off the chuck wagon! So hearty and full of protein, veggies and a little chili kick!
Be sure to read the note in the recipe to see the additions I made to the original recipes. Oh, and scroll down to the end of the post to see how you can win a copy of Sunday Dinner at Grandma's for yourself! Or maybe for your grandma!
Country Goulash
Submitted by Amy Woods Collinsville, TX Found on pg. 154
1 lb. lean ground beef
1 clove garlic, minced
1 onion, chopped
1 green pepper, chopped
16 oz. pkg. tri-color rotnini, cooked
1 (14 oz.) can diced tomatoes, drained
1 (16 oz.) can pinto beans, rinsed and drained
3 TBS chili powder
1/2 tsp. salt
In a large saucepan over medium heat, brown beef with garlic, onion and pepper. Drain. Add cooked pasta and remaining ingredients; toss to coat. Heat through over low heat. Serves 4-6. *NOTE* I used 1 tsp. garlic powder instead of fresh clove. I also added 2 TBS Worcestershire sauce after meat was browned. I topped mine with about 1/4 c. Monterrey Jack cheese and chopped green onions.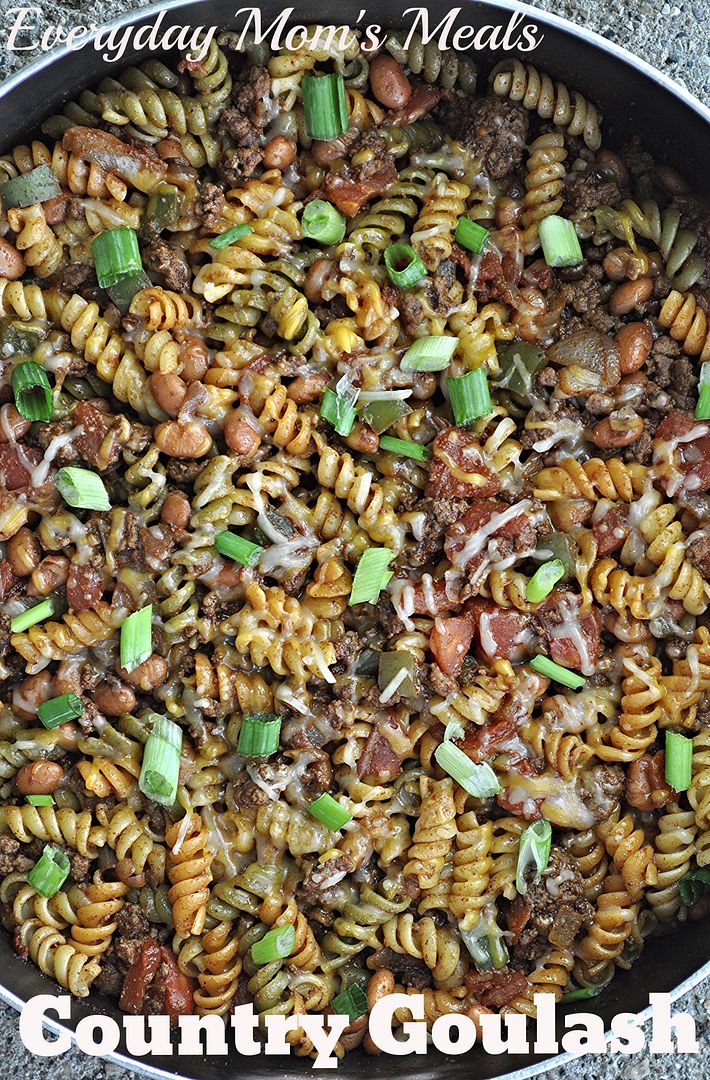 *********Giveaway*********
To Enter: Leave a comment telling me your favorite dish Grandma used to (or still does) make. Be sure to leave an email address so I can find you!
Extra Entry: Follow Gooseberry Patch on Facebook
(1) Winner will receive (1) copy of Sunday Dinner at Grandma's.
Contest Ends: June 10, 2015
Disclaimer: I received a free cookbook in exchange for this review. All thoughts and opinions are my own.