Thai food. Do you love it? Or maybe I should start with, have you ever tried it? I say that because until a few weeks ago, I hadn't. I have been wanting to for a long time, and my hubby has been encouraging me to because of his love of it, but I just never had the opportunity until now.
I will be honest, I had always been a tad apprehensive to try Thai because I had heard how a lot of it is spicy; and as I've said before, I'm a wimp and while the mister enjoys tears it while he eats, I do not. Now, usually when I am going to try a new cuisine for the very first time, I "leave it to the experts" so to speak. As in, I will go to a restaurant that is known for it, or I will have someone who prepares it on a regular basis treat me. But this time, I found a great recipe on a great blog that I just knew would be the best way for me to stick my toes in the water, so to speak.
If you love cold noodle salads, this is going to be your new favorite go-to. If you have never made one at home, this is going to be your new favorite period. This makes a great side dish with some egg rolls or
hot and sour soup
. Or make a double batch and turn it into a light summer, it's too hot to cook, supper. Or, make that same double batch and you have lunch for the week! I think it would be a great dish to take to your next potluck or cook-out too...something new and unique everyone will rave about! You will be the one with the dish everyone wants the recipe for!
If you are like me and have never tried Thai food, then this should definitely be your first time. This creamy, cool, crunchy, sweet and savory all rolled into one, delicious, simple dish will have you wanting to try even more as soon as possible!
2 (3 oz.) packages ramen noodles, any flavor, seasoning packets discarded
3/4 c. coconut milk
3/4 c. peanut butter
1 medium cucumber, seeded and finely diced
6 green onions, chopped
2 medium carrots, peeled and finely diced
1/4 tsp. red pepper flakes
1/4 c. lime juice
1 TBS sugar
3/4 tsp. salt
Bring a medium pot of water to boil. When boiling, break noodles into water. Cover and remove from heat. Let sit until noodles are tender. Drain and rinse with cold water, separating with fork. In a large bowl whisk together peanut butter, coconut milk, lime juice, red pepper flakes, sugar and salt. Add veggies. Stir to coat. Add noodles. Toss gently to coat. Chill until serving.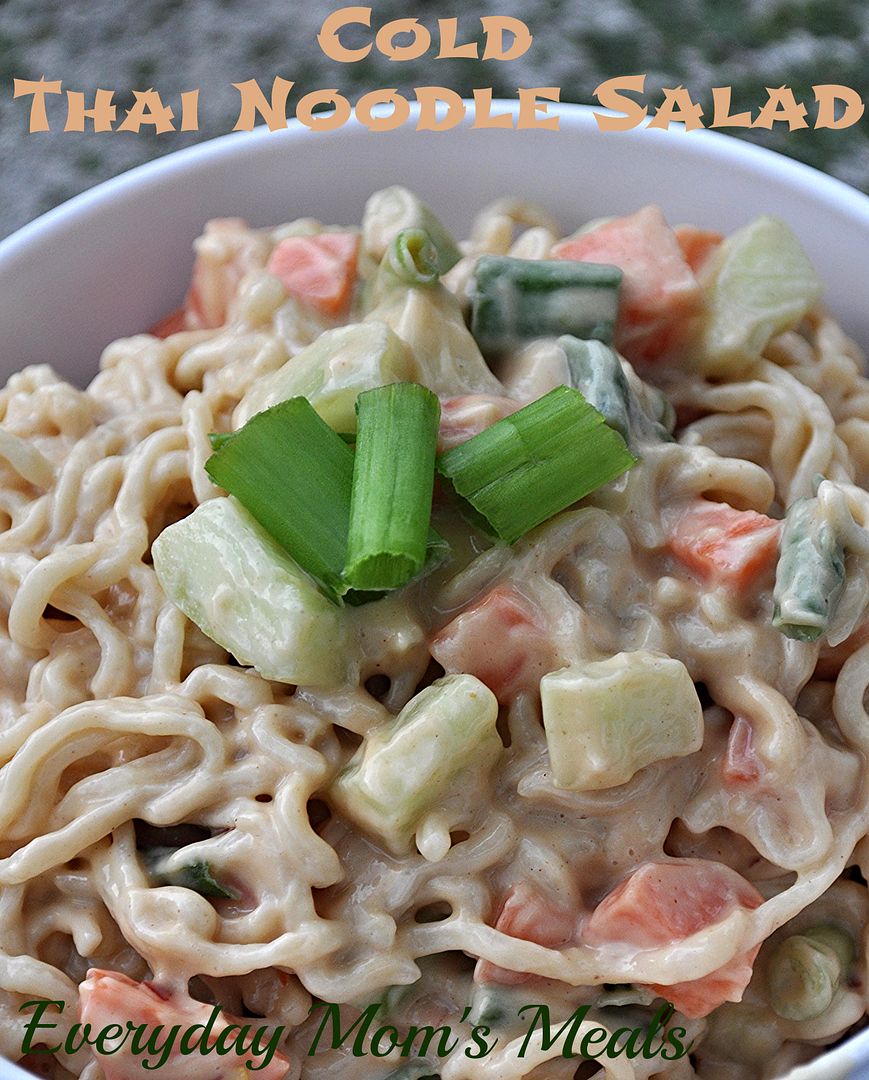 Thai at Very Good Recipes