Whew...it's been a fun week here on EMM...3 days of new recipes from
Gooseberry Patch
from their latest cookbook,
Good-for-You Everyday Meals
. We've already enjoyed an overnight oatmeal recipe; and a fantastic chicken dinner you're family will love. Today, I am ending this fabulous week with a veggie dish that is hands down, my new favorite roasted vegetable recipe; and one that could easily be served a couple different ways.
I love roasted vegetables. In fact, I think folks out there who turn their noses up at veggies, or maybe their kids do, should try roasting them before they write them off completely. Cooking veggies in the oven with oil and seasonings just does something magical to them. It gives them an almost "nutty" flavor, developing the sugars more than if boiled or steamed; and results in sweet, tender, and delicious dishes.
I've made a ton of roasted veggie recipes, trying different combinations, different spices and herbs...and without a doubt, this is definitely in my top 3 of all time. The minute I saw onion soup mix in the recipe, I had a hunch it would be dynamite because I already make a roasted red potato recipe using it, and they are out of this world yummy.
I love all the colors this dish has, along with the variety of veggies themselves. I served them along side a beef roast, but there is no doubt they could easily be a main dish for a scrumptious meat-free meal. Or even better, make them when having a large group over, and let them play double duty as a side dish for those who do eat meat, and a main dish for those who don't! Plus, it's totally adaptable to include your favorite vegetables.
As other Gooseberry Patch recipes I share, I will give it to you as published, with any changes I made in the note below.
In case you are coming to the party a little late, be sure to stop by Monday's
post
to see how you can win a copy of
Good-for-You Everyday Meals
for yourself!
Sisters' Baked Harvest Vegetables
Found on page 151 Submitted by Stacy Lane, Laurel, DE
4 potatoes or 2 potatoes and 2 turnips, peeled and cubed
1 bunch broccoli, cut into bite-size florets
2 c. green beans, trimmed
3 carrots, peeled and cut into 1/4" rounds
1 zucchini, cut into 1/4" rounds
1 yellow squash, cut into 1/4" rounds
1/2 c. olive oil
1 (1.35 oz.) package onion soup mix
Preheat oven to 350. Combine all vegetables in a lightly greased 9x13 pan. Drizzle with oil and toss to coat. Sprinkle with soup mix and toss again. Bake, uncovered, for 45 minutes until all veggies are tender.
*NOTE*
I omitted the green beans and broccoli, but added 1 extra potato and carrot. I also substituted parsnips for the 2 turnips. I also sprinkled with a little parsley at the end before serving.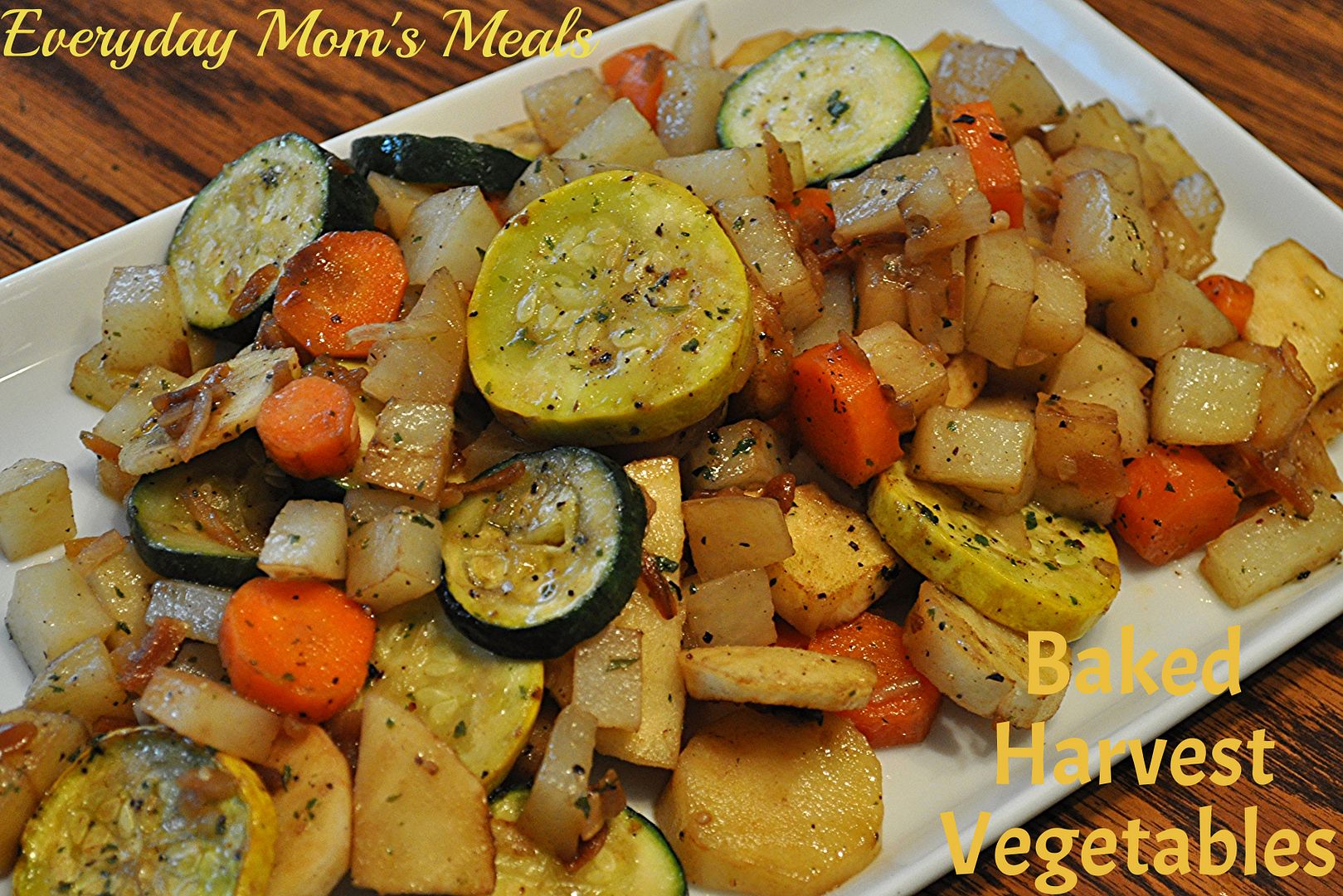 Vegetables at Very Good Recipes