I was recently asked by Aidells® to create a recipe and share their product using it.
As a busy mom, I know how hard it is to find the time to put good food on the table...fast. We all want to feel good about the meals we give our families, but none of us have the time to spend all day in the kitchen. So what's a lady to do? Well, this is when I look to the store for a little help; and this time that meant a trip to my local
Meijer
store and my new friends at Aidells®.
Aidells® packaged
Sausage Links and Meatballs
come in unique, bold flavors, have incredible taste, and are made from hand picked ingredients. These aren't your everyday meats! They are also
gluten free
, contain
NO nitrates
, and have
NO added hormones
. For home cooks like me who care about what they see on the ingredient label, that is like icing on the cake!
I cant' wait to try the sausages too, but this time around I was focusing on meatballs, which come in three tasty varieties, so it's easy to find the one that compliments the dish you're making.
Aidells® Meatballs Terriyaki and Pineapple (12oz)
Aidells® Meatballs Italian Style with Mozzarella (12oz)
Aidells® Meatballs Caramelized Onion (12oz)
For me, they were super easy to find at Meijer, next to the " butcher" counter, not too far from the other packaged meats.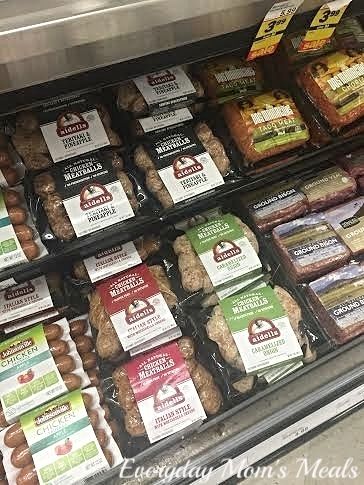 Oh, and right now you can get a $1/1 coupon through mPerks to make these even more budget friendly! This promotion runs from 5/1-5/28, so make sure you get to Meijer quick! Plus, on 5/1 there will be live in-store demos as well!
So, now that I have your attention, and probably drooling, I know you are wondering what did I choose to make with these yummy meatballs. Well, I had a rustic, hearty, but still simple meal on the brain, so I decided to try the Italian Style with Mozzarella.
This dish will have your family convinced you were sweating over the stove all day, when in reality you can have it on the table in about an hour. You can even make the sauce the day ahead to save even more time! (See notes in recipe.) Plus, since the meatballs are
fully
cooked, once the sauce is ready, you simply have to warm them in it for about 10 minutes to have a finished marinara with meatballs ready to go!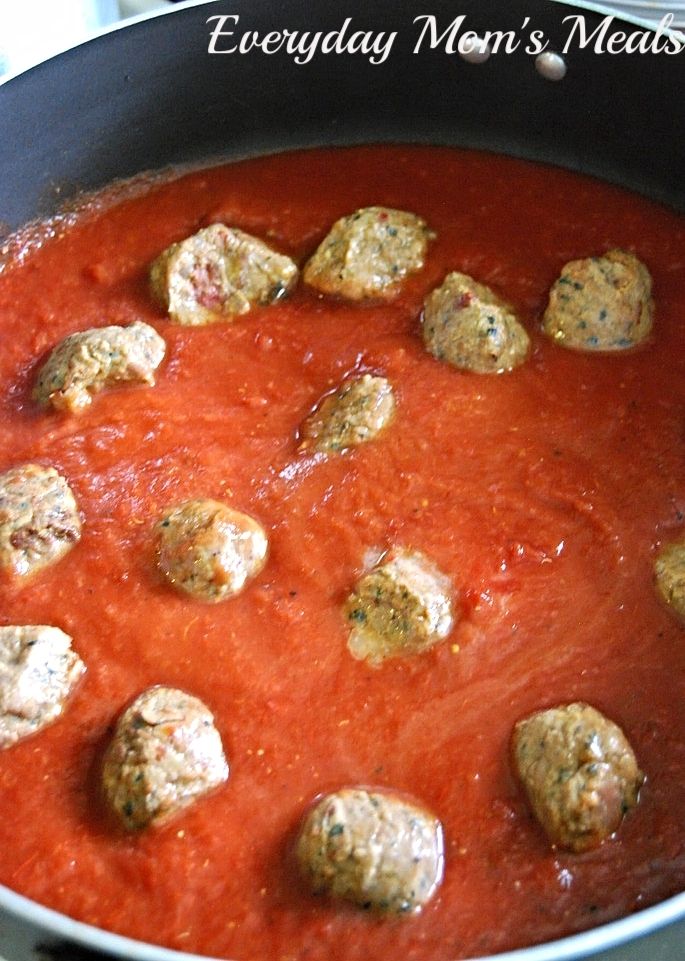 So, if you're looking for a way to get dinner on the table in an easy, time friendly, but still delicious way, that you can feel good about...be sure to download that
mPerks
offer, head to Meijer and bring some Aidells® meatballs home today!
Gnocchi with Meatballs
2 (1 lb.) packages potato gnocchi
2 (28 oz.) cans crushed tomatoes
2 (12 oz.) packages Aidells® Italian Style Meatballs
2 celery stalks, cut in half
2 carrots, peeled and cut in half
2 garlic cloves, peeled
1 medium white onion, peeled, left whole
2 dry bay leaves
2 TBS butter
Salt and Pepper to taste
Dried Parsley
Parmesan cheese
In a large pot or dutch oven, combine tomatoes, onion, celery, carrots, bay leaves, garlic, salt and pepper. Stir to combine. Cook on low for 1 hour, stirring occasionally. Add butter, stir well. Add meatballs and allow to cook for 8-10 minutes. Meanwhile, bring another large pot of water to boil. Cook gnocchi according to package directions. Drain well. Serve meatball sauce over gnocchi. Garnish with dried parsley. Serve Parmesan cheese on side. *NOTE* You can make the sauce a day ahead, cool and refrigerate. When ready, warm on stove top over low, add meatballs and follow remainder of recipe.
This is a sponsored conversation written by me on behalf of Tyson. The opinions and text are all mine.