It doesn't take much to excite me. As I get older, the little things are what I find the most enjoyment in. And one on the top of the list is getting an envelope or package in the mail from my great friends at
Gooseberry Patch
.
From getting notified that another of my recipes is going to be published in one of their fabulous cookbooks, to having the honor of reviewing their newest publication, my relationship with the wonderful folks of Gooseberry is one of the things I'm most proud of in my blogging career.
And this time, I have a fun filled, yummy food packed cookbook to introduce you to:
Game- Day Fan Fare
. If you are sports fanatics like we are, then you are probably always looking for delicious game day fare; but even if you aren't, you will still find such an array of easy, tasty recipes to choose from, you will want to make them any day of the week!
I actually chose a new appetizer to try this time, and I debuted it for my family over Memorial Day weekend when we were packing up the car for a family picnic. We were headed about an hour north of our house to this fabulous "off the beaten path" park that has a wonderful playground for an afternoon full of fun in the sun, with of course, a picnic basket of favorites.
I also love the story that comes with this dish. The reader who submitted it tells of a steakhouse in Massachusetts, that was loved but went out of business. This was the dip they served to people while waiting for their meals to be served. The mother of the lady who gave it to Gooseberry had gotten the recipe from the restaurant back in the 1940's. I not only love the history that comes with that story, but the ability to recreate a restaurant favorite at home. You know how much of that I do with our favorite restaurant dishes too!
It was the perfect new offering to our regular picnic flare. I served it with crackers, but we found it was just as yummy with vegetable dippers too! However you serve it, it will become a new favorite at home or for parties, I'm sure!
Charlie's Steakhouse Cheese Spread
Submitted by Barb Henderson, Everton, AR, Page 48
8 oz. cream cheese, softened
2 TBS onion, minced
1 1/2 tsp. ketchup
1 1/2 tsp. sour cream
2 TBS sweet pickle relish
3 green olives with pimentos, diced
1 clove garlic, minced
1/2 tsp. dry mustard
1/2 tsp. Worcestershire sauce
Salt and Pepper to taste
Combine all ingredients in a large bowl; mix well. Cover and refrigerate for 2 hours or overnight. Serve with veggies or crackers.
*NOTE* I put all ingredients in a food processor and pulsed until creamy and smooth. I also added a dash more Worcestershire sauce and garnished with extra olives.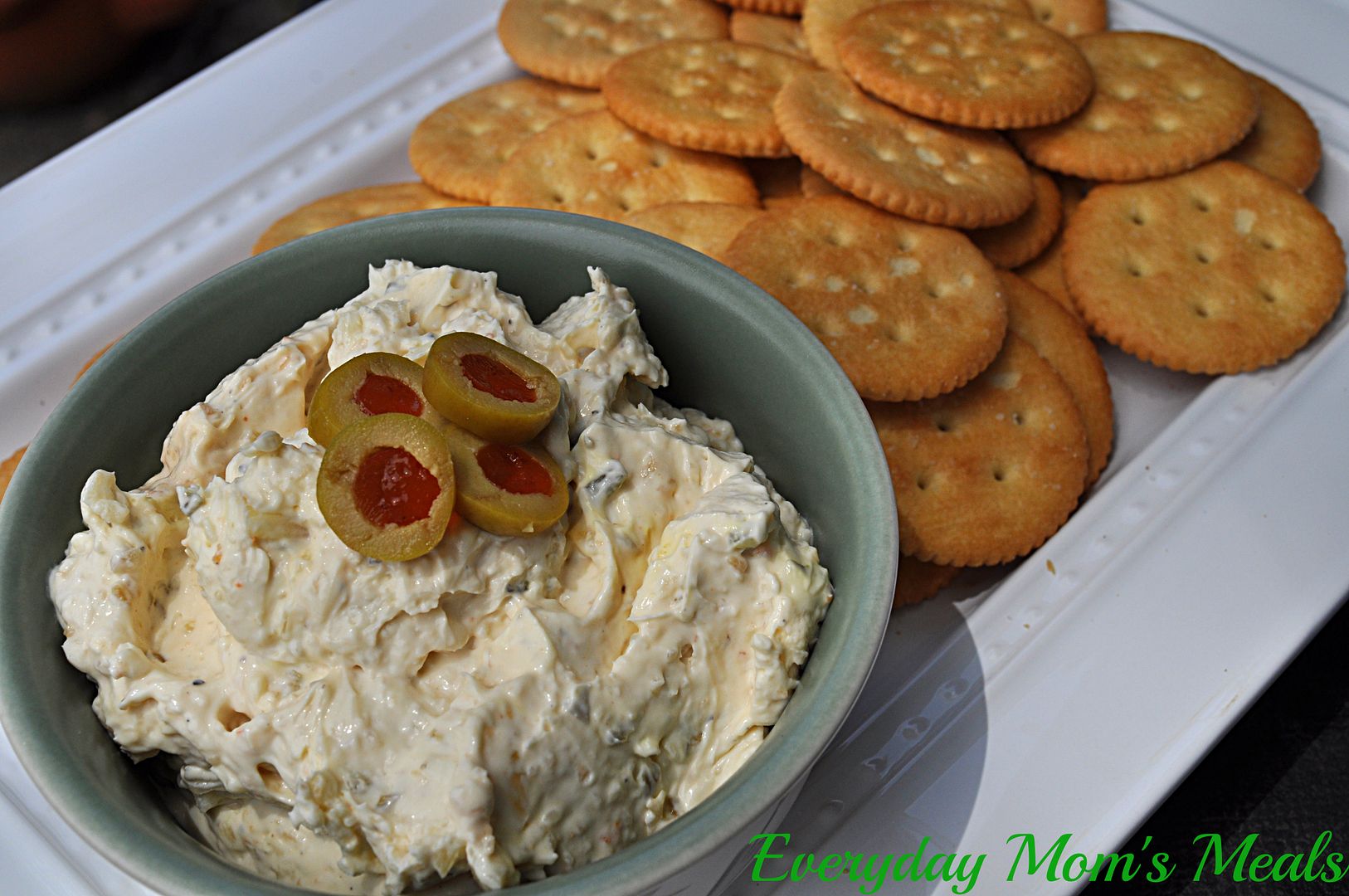 1. This contest is open to US Residents 18 and older ONLY.
3. The winner will be notified by email and Facebook. He/she will have 48 hours to respond or another winner will be chosen.
4. When leaving comments for entries, they MUST BE SEPARATE ones AND include an email address so it's easy for me to find the winner. If entries are together, it will only count as (1) and if no email, entry will not be considered.
5. If any of the extra entries are items you are already doing, please just remind me!
6. Contest Ends: Monday June 24, 2013 12am EST
One Lucky Winner Will Receive
(1) Game-Day Fan Fare Cookbook
Mandatory Entry
:
1. Leave a comment telling me your favorite game day food.
1. Follow Gooseberry Patch on Twitter. Leave a comment saying you've done so.
2. Become a fan of Gooseberry on Facebook. Leave a comment when you've done so.
3. Follow EMM on
Twitter
. Leave a comment when you are.
4. Follow me on Pinterest and leave a comment.
That makes up to 5 entries per person!!!
Good Luck!
Disclaimer: I was provided with 2 cookbooks for this review. One to keep, one to giveaway. All thoughts and opinions are my own.