Does your refrigerator crisper drawer overflow w/ veggies and fruits on a regular basis? Our does! And I'm so proud of that fact. Have you ever opened someone else's to the sounds of crickets chirping b/c it's been so long since it's last use? Isn't that sad? I can't imagine our fridge w/o all of the freshness produce brings to it. And sometimes ours gets so full that it becomes necessary to "purge" to make room for new things. I grocery shop each week, and only have so much room, so this sometimes happens before I have the change to use everything and I refuse to throw out perfectly good food! This exact scenario is how this recipe came to pass. It's been years ago. I think even before Alex was born! I had some veggies in the drawer I needed to use, was hungry for soup and happened to have a couple cans of butter beans in the pantry too. So, a little of this, some of that, chop, chop and this soup was born. Since then it's become one of our favorites and one of the few I still cook stove top. (Most soups I make are Crock-Pot bound!) I love it not just because it's packed full of veggies, therefor nutrients, but also b/c I usually have everything on hand to make it. Okay, so I might have to grab a zucchini at the store, but the rest of it I can normally shop for right in our cupboards. If you love butter beans like we do, but have never tried them in soup, you really should! So, if you have a ton of veggies left in your fridge, before you throw them out, how about a piping hot bowl of soup?
Butter Bean Soup
1 1/2 c. chopped celery
1 c. chopped carrots
1/4 c. chopped onion
1 small zucchini, chopped
3 TBS vegetable oil
3 TBS flour
1 (32oz) box chicken broth/stock
1 1/2 c. water
2 (16oz) cans baby butter beans, drained
1 tsp dried basil
Salt/Pepper to taste
In a large pot, heat oil over medium. Add onion, celery, carrot and zucchini. Season w/ salt and pepper. Cook until soft, about 5-7 minutes, stirring to prevent burning. Add flour, cook and stir for 1 minute. Gradually add broth and water stirring until smooth. Add butter beans and basil. Adjust seasoning. Bring to a boil. Reduce heat and simmer 20-25 minutes or until slightly thick.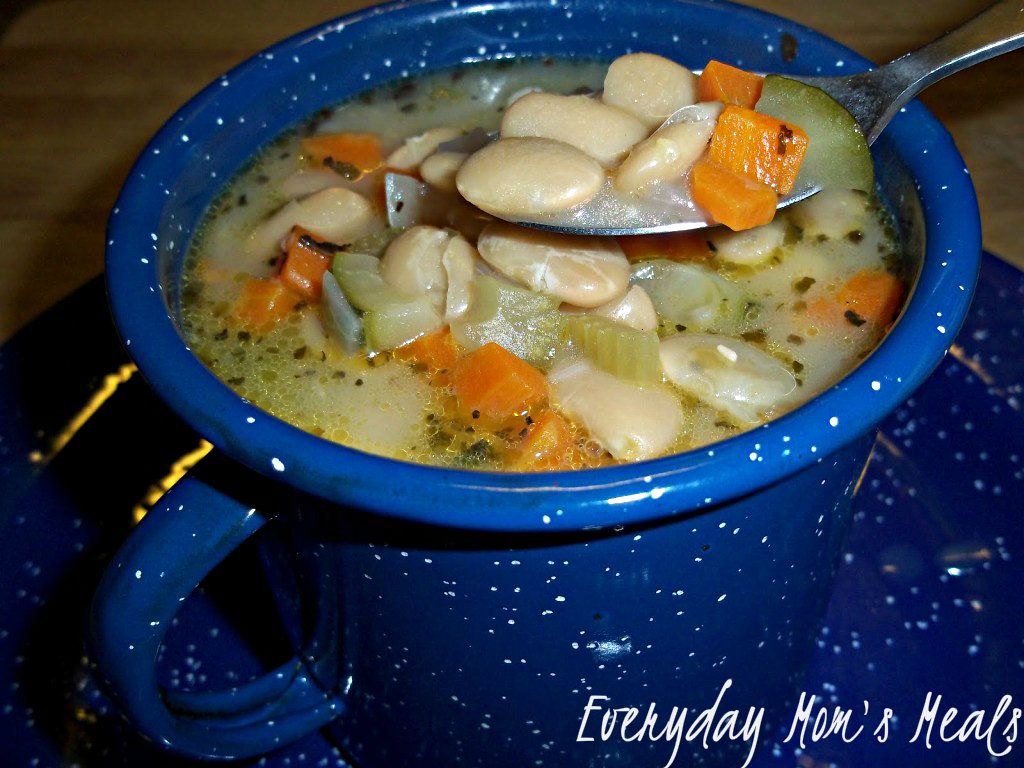 Shared on Lady Behind The Curtain Feb. 15, 2012
Shared on It's A Keeper Feb. 16, 2012
Shared on Miz Helen's Country Cottage Feb. 16, 2012
Shared on The Country Cook Feb. 17, 2012
Shared on Amee's Savory Dish Feb. 17, 2012
Shared on Six Sisters' Stuff Feb. 18, 2012
Soup at Very Good Recipes
Pin It